Two arrests at Strathclyde University cuts demo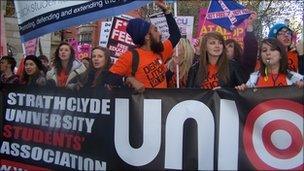 Two men have been arrested after about 100 people marched in protest at proposed cuts to courses and the threat to jobs at Strathclyde University.
A police spokeswoman said one person was arrested for alleged obstruction and the other for an alleged assault on a police officer.
A number of students then surrounded a police van, preventing it from leaving.
Strathclyde bosses claim the restructuring is for academic and not financial reasons.
However, the University and College Union (UCU) believes the university wants to transform the establishment into an institute of technology.
About 30 students lcontinued their protest outside Stewart Street Police Station, were the two men were being held.
Both individuals were later released on an undertaking to appear at court at a future date.
In April, it emerged that the university was proposing to close its theatre and art gallery and make its head of music redundant as part of measures to save up to £12m.
Last month, it confirmed proposals to drop geography, sociology and community education from its Faculty of Humanities and Social Sciences.
Under the plan, applied music, which was withdrawn last year, would not be replaced.
This would mean up to 25 jobs being lost - part of 100 post cuts previously announced.
A university spokesman said: "We are delivering high quality education and internationally recognised research across a spectrum of disciplines.
"The creation of the new faculty has strengthened the impact of these areas across the entire institution.
"Our students' experience will also be greatly enhanced through new offerings that will broaden their education through awareness of other perspectives that complement their own degree topics."
The spokesman added that the university was making major investments in humanities and social sciences through "significant new academic staff appointments" and the creation of new faculty accommodation.
Staff and students, however, believe that the university's restructuring plans are highly questionable.
Mary Senior, from the University and College Union, said: "Staff and students share concerns over the plans.
"The university has a proud reputation for delivering a wide-ranging educational experience, from teacher education and social work to law and politics as well as science, engineering and technology.
"The university must not put its reputation at risk by making swingeing, short-sighted cuts just as a new Scottish government - committed to funding higher education - starts work at Holyrood."
Students' Association President, Philip Whyte, added: "This action is about bringing together staff, students, and those external to the university with the aim of showing that this is a united campaign - one not about self-preservation, but the preservation of education itself.
"It's vital that we prove just how much anger there is against these decisions, and the level of support that exists for the courses."
Related Internet Links
The BBC is not responsible for the content of external sites.