Glasgow University 'turned around' finances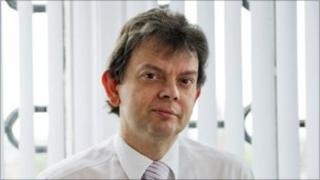 A university which is making millions of pounds of cuts to staffing has claimed to have "turned around" its financial prospects.
Glasgow University principal Prof Anton Muscatelli told staff that redundancies and extra revenue from overseas students meant that the next three years would be free from deficit.
He had previously warned that the university could run out of cash.
The university has been hit by protests about its £20m savings plan.
Students began a sit-in in February as part of a student campaign opposing the cutbacks.
An attempt was made to end the protest after seven weeks among scenes of unrest on campus and claims of "excessive" force from security staff and police.
Demonstrators said the savings plan would see courses cut and merged.
There would also be job losses, with the university admitting that it could not rule out compulsory redundancy.
Good position
However in his latest message to university staff, Prof Muscatelli said: "We have put a voluntary severance plan in place, and we have also sought to make savings in non-staffing costs, and where vacancies have occurred.
"Such has been the impact of this work that we have turned around our financial prospects."
The university court approved staff cost cuts of £3m this year, £10m in 2011-12 and £7m in 2012-13.
He added: "I am delighted to tell you that as a consequence of all our efforts we are now in a good position with our 2011-12 budget and significantly, we are well placed for the years ahead.
"On our central forecast and based on the savings identified above and additional income growth, the university will not face a deficit in the years up to 2014-15.
"Obviously as with any forecast, there is considerable uncertainty, not least about what will happen to our future costs, and how much funding the HE (Higher Education) sector will receive in the next three years."
Prof Muscatelli said savings of £12.6m were identified from voluntary severance over two years.
Recruitment of international students was "well ahead" of schedule, bringing a projected increase of £8.7m, he said.
Prof Muscatelli added: "All this is a very positive picture, given the circumstances.
"It's a picture which shows that Glasgow University is where it belongs: financially, we are likely to be in a position in the next three years where we are able to make our own choices; we are probably one of only two Scottish universities in a position to determine our own strategic direction."
But he said some changes to course are still expected to go ahead.