Clydebank firefighters cut pitchfork from man's head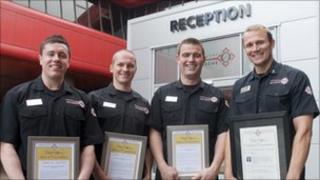 Six firefighters have received bravery awards after helping surgeons remove a pitchfork embedded in a man's head.
The fire crew based at Clydebank donned surgical scrubs and took heavy-lifting equipment into the operating theatre at Glasgow's Western Infirmary.
The man had been the victim of a violent attack and the actions of the firefighters probably saved his life.
Watch commander Brian Wardle and five of his officers were awarded certificates of congratulations.
They were Fabrice Dubois, Gordon Maxwell, Craig McDougall, Andrew McGregor and John Joseph Parker.
In July 2010 the crew were called to deal with a special service incident and found a man unconscious following a violent attack.
Extreme pressure
The weapon used was a pitchfork which remained embedded in his neck and face causing severe breathing difficulties.
The crew cut away parts of the tool to establish an airway and stabilise the man but after returning to the fire station were then called to the Western Infirmary in Glasgow.
The officer in charge, Mr Wardle, offered advice and assistance to the surgeon but the crew were later asked to return and actually enter the operating theatre.
The surgeon said the only way to save the casualty's life was to remove the steel obstructions from his neck.
A spokesman for Strathclyde Fire and Rescue said: "Under extreme pressure, the firefighters displayed a disciplined and professional approach to the delicate operation which undoubtedly played a massive part in saving the life of the victim."
Chief Officer Brian Sweeney and convener of the board of Strathclyde Fire and Rescue, councillor Brian Wallace, presented the men with their commendations.