Driver information push ahead of M74 extension opening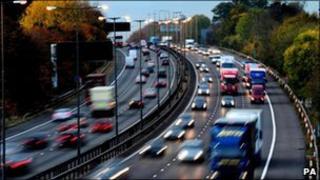 A new website for motorists has been launched three weeks before the opening of the new M74 extension in Glasgow.
The site - www.m74completion.com - features maps and traffic tips about the new section of motorway which is scheduled to open on 28 June.
Drivers are being urged to familiarise themselves with the new arrangements.
The five-mile extension, which cost £657m, links the end of the existing M74 at Carmyle with the M8 to the south west of the Kingston Bridge.
Infrastructure Secretary Alex Neil said: "When the M74 completion scheme opens to traffic in three weeks time, eight months ahead of schedule, it will bring real improvements for drivers.
New arrangements
"As with the opening of any new road, it is important that drivers are informed of any changes the new motorway could make to their journeys.
"Drivers should pay attention to the radio ads, visit the website to familiarise themselves with the new traffic arrangements, drive with care and pay close attention to road signs in the run up to the opening and once the new road opens."
Work on the extension began in 2008. The cost is being met by the Scottish government through Transport Scotland and Glasgow, South Lanarkshire and Renfrewshire councils.
The work was carried out by Interlink M74, a joint venture comprising Balfour Beatty, Morgan Est, Morrison Construction and Sir Robert McAlpine.
The construction phase has a fixed cost of £445m, plus £12m for mine treatment works, although extra elements including land costs have seen spending watchdog Audit Scotland estimate a project total of between £657m and £692m.