Scottish Power drops plan to cut River Doon water level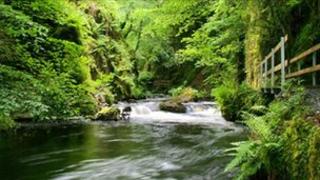 Scottish Power has abandoned controversial proposals to cut the water level in the River Doon.
A coalition of groups opposed the plan amid fears it could threaten jobs and salmon stocks in the Ayrshire river.
The utility said it had dropped the plan after a consultation had revealed "the strength of feeling around wider impacts of our proposals".
The company still plans to go ahead, if approval is given, with plans to increase water levels on the River Dee.
Scottish Power had said it wanted to divert water from the Doon to the River Dee to comply with European Union water rules.
It also claimed the move would benefit the ecology of both rivers, which are part of the Galloway hydro electric scheme.
'Stakeholder feedback'
A final decision on the proposals was being awaited from the Scottish Environment Protection Agency.
A spokesman for Scottish Power said the firm was no longer seeking permission to cut the water level on the Doon.
"We have taken on board the feedback we have received from all stakeholders and balanced this against legal requirements and conservation of renewable energy," he said.
"Given the strength of feeling around wider impacts of our proposals, we have decided not to seek to alter the compensation flows in the River Doon."
The company said it would still seek to increase the flows serving the River Dee between 2015 and 2021 "as per the current licence application".
East Ayrshire Council leader Douglas Reid described Scottish Power's decision as "excellent".
"We were wholly behind the campaign against these proposals, which was led by the Ayrshire Rivers Trust, and submitted a very detailed response to Sepa objecting to the proposals," he said.
"The impact of the diversion would have been terrible for the local community and the businesses that rely on visitors to the area for trade - 40 jobs would have been lost if the diversion had gone ahead."