Lynda Spence detectives look for wheelie bin witnesses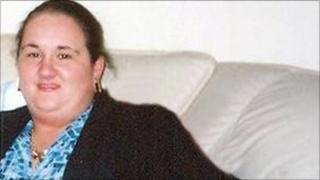 Police investigating the disappearance of a Glasgow businesswoman have been interviewing people in the town where her mobile phone was found in a bin.
Lynda Spence, 27, who is also known as Lynda Zejaf, Lynda Palmer and Lynda Reilly, was last seen on 13 April.
Detectives believe her mobile phone was put in the wheelie bin outside The Lunchbox in Holmhead, Kilbirnie, between 1100 and 1300 BST on 2 June.
Two weeks on, police have been asking pedestrians in the area for help.
Det Supt Alan Buchanan, of Strathclyde Police, said: "Today's operation is about speaking to pedestrians and motorists who either live in the local area, or visit this street regularly around these particular times.
"Hopefully we can jog their memories into remembering something they may have seen or heard which could assist our inquiries.
"I would again urge the person who put this phone in the bin, and the person who found it and handed it into a local shop to come forward to police.
"We believe that these people have crucial information that will help this inquiry move forward."
Ms Spence, of Castlebank Street, Glasgow, was last seen by her parents at about 1800 hours at their home in Castlebank Place in Glasgow Harbour.
After visiting her parents, Patricia and James, on 13 April, Ms Spence stayed overnight with a female friend in the Witworth Drive area of Maryhill.
She left that address around lunchtime the next day, saying she was travelling to London.
Her silver Vauxhall Astra was seen on the A77 in Floak, Ayrshire, on Wednesday 20 April. It apparently had a damaged wing mirror.
Ms Spence, who is 5ft 8in (1.73m) tall, of heavy build, with brown eyes and brown hair usually worn in a ponytail, has made no contact with either her mother or father.
She has a scar under her eye and speaks with a Glasgow accent.
'Vital information'
At a press conference earlier this week, police revealed they feared she may have "come to harm" after financial business hit problems.
Money owed by the businesswoman, who had been running mortgage advice firm Fraser Developments on Great Western Road in Glasgow, went into six figures.
Det Supt Buchanan added: "We believe that Lynda was in severe financial difficulty with a numbers of deals failing, resulting in her owing a number of people money.
"This may have caused Lynda to disappear in an attempt to avoid these people, equally it may have resulted in her coming to harm at the hands of those who blame her for them losing money.
"I am in no doubt that there are still people out there with vital information regarding this information who, for whatever reason, are reluctant to come forward and speak to police, however any information can given in confidence, and officers can also be contacted by text or email."
Police officers working on the case can be contacted via lyndaspenceenquiry@strathclyde.pnn.police.uk and texts can be sent to 07864 178454.