Erskine Bridge plunge death girl 'had care fantasy'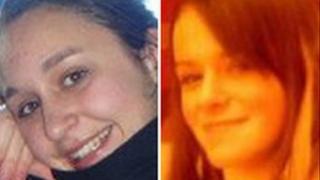 A teenager who jumped with her friend from a bridge over the River Clyde had a "fantasy" about being taken into care, a fatal accident inquiry heard.
Neve Lafferty's mother told Paisley Sheriff Court the idea came from a TV programme about a care home.
Neve, 15, and Georgia Rowe, 14, from Hull, fell from the Erskine Bridge in an apparent suicide pact in 2009.
Both girls had been attending a nearby independent unit - the Good Shepherd Centre in Bishopton, Renfrewshire.
The girls were reportedly holding hands as they jumped.
Collette Bysouth told the inquiry into her daughter's death that Neve, from Helensburgh, had enjoyed watching TV show Tracy Beaker, which was based around a care home.
Ms Bysouth, 41, said: "She had this idea about what being in care would be like, that it would all be food fights and practical jokes like in the programme. It was a bit like a fantasy."
Pupil assaulted
The inquiry was told Neve was taken into care on 19 June 2008, the day after her 14th birthday.
Ms Bysouth said she had assaulted another pupil at Hermitage Academy in Helensburgh, Argyll, leaving the other pupil in hospital.
At the time Neve was living with her father, Paul Lafferty. He was said to have struggled with a heroin addiction and had claimed Neve was "setting him back" and that he would "end up back on the drink and drugs".
Ms Bysouth said: "I wanted Neve to come home to my house but she refused. She insisted that she be taken into care."
Neve was taken to East King Street Centre in Helensburgh and later moved to the Good Shepherd Centre, a secure unit in Bishopton, Renfrewshire.
Neve returned to her father in February 2009, but six days later her mother went to pick her up from Mr Lafferty's house to attend a looked-after children review.
'Taking drugs'
Ms Bysouth told the hearing: "She looked awful. She looked like she hadn't washed for days. She normally took a lot of pride in how she looked but she had no make-up on or anything."
Her mother told the court she later found out Neve wrote in a school essay that on the day of the review she had been "in a state" and that she had been "out five nights in a row drinking and taking drugs".
Neve also said in the essay: "I didn't want to tell them that dad was back on drugs and that he had no money for electricity or even for hot water for me to have a shower."
Ms Bysouth told the inquiry she believed her daughter and Mr Lafferty had been "set up to fail".
When Neve returned to the Good Shepherd Centre, her boyfriend, 16-year-old Jonny McKernon, died of a drugs overdose. On the same day, her father committed himself to a psychiatric ward.
Psychologist assessment
Ms Bysouth said she believes counselling for Neve should have been "insisted on" after Jonny's death.
Within two days of Jonny's funeral, Neve had either cut her own face or instructed someone else to do it for her, the inquiry was told.
Reports read to the court said Neve ran away three times in four days in March 2009, once to the Erskine Bridge. She is said to have threatened to "walk to the Erskine Bridge and commit suicide" and that she would "find a way to be with Jonny".
Ms Bysouth said: "She was initially assessed by a psychologist and it was advised that an intervention would be suitable, to let her talk about her feelings. But we were told this would only happen when Neve was ready. She was never forced.
"I believe that if she had been made to go to counselling sessions she would eventually have opened up about her issues."
The inquiry, in front of Sheriff Ruth Anderson QC, continues.