Fight for votes in Inverclyde by-election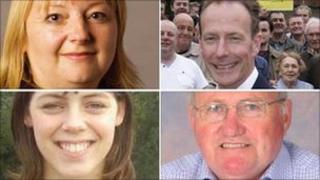 Labour leader Ed Miliband has hit the campaign trail in the Inverclyde by-election, as the main parties continued the fight for votes.
Voters go to the polls on 30 June to elect a successor to Labour MP David Cairns, who had a 14,416-vote majority.
Elsewhere, the Lib Dems admitted they did not expect to win, but insisted they were taking the contest seriously.
The SNP and Conservatives were also campaigning in the area, focussing on the economy and jobs.
Mr Miliband used his visit to attack Conservative spending reductions, citing concern for the future of Coastguard services on the Clyde.
"The message from this community is loud and clear: think again, change course, and do not put lives at risk by breaking up the coastguard or closing vital stations that do nothing but save lives," he said.
"People are feeling the pinch from the Conservatives reckless policies, and Labour will work tirelessly to stand up for fairness and stand up for families."
'Inverclyde resurgence'
Meanwhile, Kenneth Shepherd, the Liberal Democrat Inverclyde election agent said he "didn't seriously expect" his party to win, but added: "We hope to bring something fresh to the campaign, something new."
Mr Shepherd told BBC Scotland: "We had, not a problem finding a candidate, obviously it was not easy - not many people were happy to stand after the beating we took at the Scottish election."
He went on: "That's part of the object of the exercise to show to people of Inverclyde that we've not gone away, that we're still here and we'll be here next year for the local elections."
Asked whether Lib Dem leader Nick Clegg would be campaigning in Inverclyde, he responded: "He would certainly be welcome, but I don't know what sort of reception he would get in the town centre."
Meanwhile, the SNP's Jim Mather said it was time to kick-start an Inverclyde resurgence, by making the best of local talent.
Mr Mather said it would be a "challenge" to win the seat from Labour, but he added: "We've got a great candidate and a great proposition, and there's a new mood of change here in Scotland and a greater realisation that, over the 40-50 years of Labour hegemony in Inverclyde, nothing much has happened, nothing much has changed."
Conservative leader Annabel Goldie said her party wanted to see the economic regeneration of the whole Inverclyde area.
On her party's chances in the contest, she said: "The Conservatives fight every seat to win - that's what we do.
"I think we've got everything to play for here and I think people are pleased the Conservatives are taking responsible decisions at Westminster doing responsible things to try and get us back on track after the appalling mess that Labour left this country in."