Fire closes sport complex at Glasgow's Kelvin Hall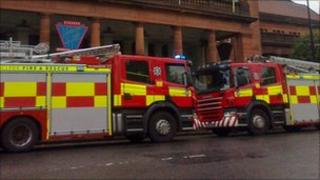 The Kelvin Hall in Glasgow has been closed after a fire broke out within the complex.
Damage to the landmark building, one of Scotland's best-known sports arenas, is thought to be limited.
The fire started before the centre was open to the public. There were no injuries and no evacuation of staff.
Management at the venue said they were aiming to reopen it early next week, after any esssential repairs and clean-up have been concluded.
A spokesman for Glasgow Life said: "Strathclyde Fire and Rescue were quickly on the scene and the fire was extinguished.
"The fire was quickly contained to a small area within the complex."
Water damage
The fire was discovered at about 0900 BST in the health suite. A pipe was burst, leading to water damage in that part of the building.
Specialist staff from Glasgow Life have started an assessment of the damage before clean-up operations begin.
Firefighters said they expected to be at the scene for some considerable time.
Assistant Chief Officer David Goodhew said: "Our firefighters avoided what could have been catastrophic fire damage to one of Glasgow's landmark buildings.
"Staff at Kelvin Hall have asked that we do all we can to save the venue's running track and I am pleased to say we were able to do so."