Student protest at Glasgow and Strathclyde universities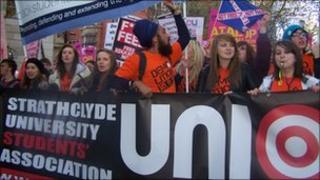 Students at the universities of Glasgow and Strathclyde have held a march and rally to protest at planned cuts.
Proposals have been prepared at both institutions to save millions of pounds from their budgets.
At Strathclyde University, a number of arts and social science courses have come under threat as savings of £12m are sought.
The University of Glasgow has been looking at savings of up to £20m.
The demonstrations were scheduled to coincide with meetings of the universities' governing bodies.
The cuts plan at Glasgow University has already been scaled back, with a reprieve for a number of language courses.
Tough times
But Slavonic studies and a liberal arts course at its base on the Crichton Campus in Dumfries remain under threat, and adult education courses may be hived off.
At Strathclyde University, plans have been drawn up to cut courses in applied music, community education, geography and sociology.
Glasgow University has said that it has to take action in tough times. Strathclyde has said it wants to concentrate investment on targeted departments.
Student leaders have claimed that it makes no sense to cut courses until the Scottish government announces its spending plans for higher education.