Nine rescued from Strathclyde Park rollercoaster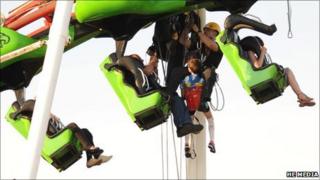 Nine people were rescued from a rollercoaster after being trapped for up to eight hours on the ride in Strathclyde Park.
Emergency services were called to M&Ds, near Hamilton in Lanarkshire, after the Tsunami ride suffered a "mechanical failure" at about 1630 BST on Sunday.
The group, aged between nine and 49, were stranded about 60ft (18.2m) above the ground.
The last person was eventually pulled free from the ride at about 0045 BST.
BBC news online Scotland spoke to a 30-year-old man who was stranded on the rollercoaster with his 36-year-old wife.
'Real nightmare'
The man, who did not want to be named, described their ordeal as "a real nightmare".
"We left our 15-month-old child with a friend's wife to go on the ride and were separated from the baby for nine hours," he said.
"We thought we would be on the rollercoaster for five minutes, so, didn't have extra clothing or formula milk.
"Thankfully, my friend's wife took good care of our child but it was very stressful for me and my wife."
The man said when the rollercoaster stopped, they thought it would be restarted within minutes, but were shocked as the wait "went on and on".
He said his wife could not get to a toilet for eight hours and "suffered" while waiting to be taken off.
He also said those stranded on the ride were not given any information by park operators and did not receive an apology when they were finally taken off.
Mechanical failure
"The only thing we got was a free taxi home as the bus services had all stopped by then," he said.
"The rescue guys were fantastic, though, and we cannot thank them enough."
A spokesman for Strathclyde Police said: "At around 4.30pm one of the rollercoaster rides at M&D's theme park suffered what appeared to be a mechanical failure.
"Nine people of various ages were on the ride.
"Strathclyde Police and other emergency services were sent to the scene.
"Everybody is now safe and well. No-one needed to be taken to hospital."
M&D's website states it is Scotland's "only theme park" with five rollercoasters including The Tsunami, Tornado, Express, The Runaway Mine Train and The Big Apple.
In June 2009, six people were stranded on the Tornado ride after high winds caused safety systems to activate.
Were you among those stuck on the rollercoaster, or do you know anyone who was? You can get in touch with us at newsonlinescotland@bbc.co.uk - and you can also send any pictures, either still or moving, to the same e-mail address.
If you submit an image, you do so in accordance with the BBC's Terms and Conditions.