All hands on deck for Tall Ships trainees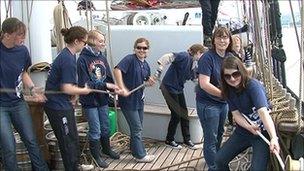 As the 57 participating Tall Ships set off around Scotland for the next stage of this year's race, I joined one of the vessels for the first leg of its trip.
The Red Arrows dramatic performance overhead set the stage for the sailing ships to leave Greenock's James Watt dock.
At 1314 BST precisely, we begin our trip on board the Dutch registered Wylde Swan.
Twenty-two trainees are aboard ready for the experience of a lifetime and even though they are not taking part in a racing leg their excitement is no less.
Most are from Ullapool and are looking forward to the ship calling into their home port.
But before that they must make their first stop, the following morning in Campbeltown.
Kathleen Steventon, one of the trainees, tells me: "It's just a really fantastic and unique experience.
"There are people from different countries here which is also really interesting and we're visiting our home town."
At 26 metres, Wylde Swan is one of 13 Class A ships - the giants of the fleet.
She came second in the first leg of the race, from Waterford to Inverclyde.
Once into the Clyde, the trainees are put into action pulling up sails and climbing the rigging.
Kieran Macrae is one of the first to go up and on his return said: "It was absolutely terrifying.
"You get up there and are standing on it with nowhere to put your hands.
"You just stand there on this little rope that's moving and you don't feel like you're attached to anything."
Over the days to following, tidal races and perhaps even extremes of weather will face these young people.
But for day one, the biggest challenge is fighting off sun burn in the scorching heat which has blessed the Greenock event all weekend.
Captain Jurgens Hanekom explains that it will become more difficult.
"The tides can go up to seven to eight knots which could create havoc on your planning if you think you're going to just pop round the corner."
Peter Newell, Race Director from Sail Training International is on board and at the helm.
Although semi-retired, he has joined the team to help out.
He explained: "What we're trying to do is provide them with the opportunity to discover themselves as much as anything, to realise that there are challenges in life that need to be faced.
"There's no better way of providing that opportunity than putting them in a hostile environment, which is the sea."
It doesn't feel too hostile just now though as the waters represent a mill pond.
As I take to my bunk at midnight, the ship runs on sails alone past Great Cumbrae at three knots, hoping to make Campbeltown by morning.
Related Internet Links
The BBC is not responsible for the content of external sites.