New leads after Elaine Doyle Crimewatch appeal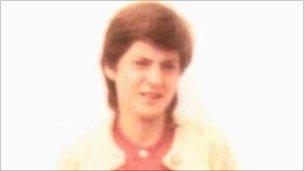 Police investigating the murder of a teenage girl 25 years ago have said a TV appeal has led to a number of new lines of inquiry.
Elaine Doyle was killed in Greenock on 1 June 1986. Her body was found the next day in a lane yards from her home.
The 16-year-old had been strangled and sexually assaulted.
Police said a reconstruction of her last movements, broadcast on the BBC's Crimewatch programme on Tuesday night, had generated more than 50 calls.
A Strathclyde Police spokesman said the majority of the calls had created new lines of inquiry.
The team has been given new names and details and said one new name had been given twice by two different callers.
Elaine was killed on her way home from a disco. Her partially clothed body was found in a lane off Ardgowan Street, less than 50 yards from her home.
Det Insp John Dearie, from Operation Evergreen, said: "We have had an excellent response from the public to last night's appeal and I would like to take this opportunity to thank each and every person who contacted the show.
"These calls have produced new lines of inquiry for the Evergreen team and we will now be following these up.
"We also received calls from the public at Greenock police office and were contacted via e-mail, all of these provided useful information for the team."
He added: "We are, however, still looking for more information and more names.
"I would urge anyone who has any information about the events of Sunday 1st June 1986, no matter how insignificant they think it might be, to contact us.
"That small piece of information or suspicion you have could well be the crucial link to finding Elaine's killer and finally giving her mum and dad the answers they deserve."
Speaking on the programme, Det Con Willie Brandon, from Strathclyde Police, said Elaine was strangled with some sort of ligature, which has not been found.
"We know that Elaine bravely fought back, but, quite frankly, she never stood a chance," he added.
Elaine's handbag was also taken on the night she was killed.
Mr Brandon continued: "One week after the murder the handbag turned up on the steps of a local library in broad daylight on fire. We believe this was some bizarre attempt to taunt the police.
"Crucially that tells us that the person who murdered Elaine was still in Greenock one week later."
Mr Brandon said the murderer either lived in Greenock at the time or had very good knowledge of the area.
He said a man had been spotted in the town acting suspiciously on the night the teenager was killed.
"I think it's also important that people understand, having this DNA evidence that we now have, we can rule people out very quickly and very easily," he said.
"So, I would urge anyone who has harboured any form of suspicion, no matter how small, that someone they know has some connection with this crime to pick up the phone and give us their name."
Scientists were able to establish a DNA profile of Elaine's killer in 2003.
He said both of Elaine's parents were now in "poor health".
"We are particularly keen to bring in the answers that they crave sooner rather than later," he added.
Elaine was last seen alive by two friends in Hamilton Way after she left the disco in Laird Street.
In an interview recorded for the programme, her father Jack Doyle said: "We would like to put a face to that person, who he is, why he would need to take Elaine's life.
"It doesn't get any easier but we'll never give up hope. It's living in a nightmare."
He said she was not in the "wrong place at the wrong time" and was a happy teenager.
Elaine's friend, Lynn Ryan, said she had asked the teenager to stay at her house after the disco, rather than walk home, but as it was too late to call her parents she left her friends.
She said: "Somebody else knows. You can't keep a secret like that to yourself for 25 years."
The reconstruction of the teenager's last hours was filmed last month.
Related Internet Links
The BBC is not responsible for the content of external sites.