Strathclyde Police 'under-recorded' complaints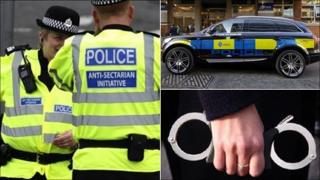 Scotland's largest police force cannot be held to account effectively because it has "under-recorded" complaints, an inspection report has found.
The joint report by the Inspectorate of Constabulary for Scotland and the Accounts Commission said Strathclyde Police was "addressing" the issue.
The study concluded that, overall, the force was "performing well".
Strathclyde Police said it was "satisfied" with the findings and would take on board suggested improvements.
The Best Value Audit and Inspection report said that in 2009-10 an average of 12.2 complaints were made against Strathclyde Police for every 10,000 incidents.
Robust procedures
This was "significantly lower" than the Scottish average of 17.5.
But it said the failure to record complaints properly meant that the force's management body, Strathclyde Police Authority, could not challenge and hold it to account effectively because of the poor "quality and accuracy" of the data provided.
The inspectorate said the force also did not provide a breakdown of the types of complaint.
According to the report, Strathclyde Police had now identified the reason behind the shortfall and was trying to put more robust procedures in place to improve the information they gave to the police authority.
Strathclyde Police and Strathclyde Police Authority must now "ensure all relevant information is accurately recorded and effectively scrutinised", the report said.
It also found that Strathclyde Police Authority needs to adopt a "more proactive" approach to gathering information from the force about their performance, so it could scrutinise it effectively.
However, the report said Strathclyde Police was "performing well" overall.
It said crime rates were falling while detection of crime had increased.
In 2009-10 a 10.3% drop was recorded for crimes of violence, indecency, dishonesty, vandalism and malicious misconduct, and drugs. This equated to 18,419 fewer crimes.
In the same period, the overall detection rate was 30%, slightly up on the previous year.
Fewer crimes
But Strathclyde Police has the lowest four-year average detection rate of all the forces in Scotland.
Chief Constable Steve House said the review process was "demanding but fair".
He said: "While I am satisfied with the overall outcome of the review in terms of how the force is performing and of the job that my officers are doing in our communities, I realise there is always room for improvement.
"The authors of the report have made a small number of recommendations to the force about how we might improve still further.
"We will, of course, take them on board and make sure that we do whatever we can to improve our performance still further. The better we are as a force, the better we are at keeping people safe."
The force and the board will now produce an improvement plan to show how they intend to address the findings.
The Accounts Commission has asked for a report in a year's time in order to be able to review any progress.