Erskine deaths inquiry: Bridge girl made suicide bid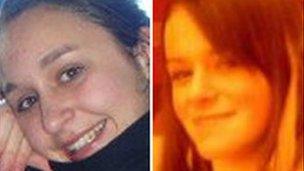 A girl who leapt from a bridge with a friend in an apparent suicide pact tried to kill herself months before, a fatal accident inquiry has been told.
Argyll and Bute social worker Adah Lambie said Neve Lafferty took pills at a care unit in Helensburgh in July 2009. A suicide note was also found.
The 15-year-old and Georgia Rowe, 14, died after falling from the Erskine Bridge near Glasgow on 4 October 2009.
Both were residents at the Good Shepherd care centre in Renfrewshire.
The inquiry at Paisley Sheriff Court heard that Neve made a suicide attempt after moving from the Good Shepherd Centre to a care unit in Helensburgh, her home town, in early July 2009.
Ms Lambie said: "She had taken a quantity of pills that, according to what she was saying, you would think would kill somebody."
After this incident Neve was transferred from East King Street children's unit back to the Good Shepherd on 28 July.
Ms Lambie said that when Neve returned to the Good Shepherd, staff there were aware she had made a suicide attempt.
She added: "They knew Neve. They knew her history of threats of suicide and self harm. They were aware of that."
Neve was initially taken into care in June 2008 because she refused to live with her mother Collette Bysouth, and wanted to be looked after by her father.
However, he later said he could not cope with the teenager.
The inquiry, before Sheriff Ruth Anderson QC, continues.
Related Internet Links
The BBC is not responsible for the content of external sites.