Rock fall calls after Argyll train derailment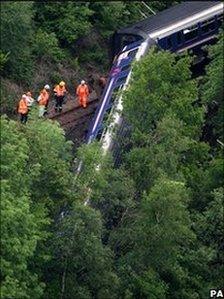 Rail accident investigators have said procedures for identifying and guarding against rock falls should be tightened after a train derailment in Argyll.
ScotRail's Glasgow to Oban service came off the tracks on 6 June last year after hitting a boulder near the Falls of Cruachan power station by Loch Awe.
Some 60 passengers were led to safety after both carriages came to rest over a 15m embankment.
In a report, investigators have issued six recommendations to improve safety.
The Rail Accident Investigation Branch (RAIB) report said that the derailment had been caused by the train hitting a boulder which had become dislodged from the slope above the track.
It said the boulder had become dislodged through "natural processes that included root jacking and soil erosion".
The report said, however, it was possible another causal factor may have been that "the examination and evaluation system did not identify the boulder hazard on the soil slope between the rock face and the railway boundary".
This prompted inspectors to issue six recommendations - five of which applied to track operator, Network Rail, and one to train operator, ScotRail.
It was advised that Network Rail "should review its existing arrangements for the clearance of vegetation (on track side slopes) to enable examinations and evaluations of earthworks to be carried out".
It was recommended that "examination results are reported for both the soil and rock materials" and "that any inconsistencies between condition ratings from successive examinations should be identified and resolved".
Network Rail was also advised to "review the process for planning remediation works" and review its methodology for calculating "rock slope hazard".
The sixth recommendation was that ScotRail "should assess the risk of lighting diffusers ... in the interiors of trains" so that in the event of another derailment they do not cause injuries to passengers.
Related Internet Links
The BBC is not responsible for the content of external sites.