Sham wedding fixer Janet Cathie used own daughter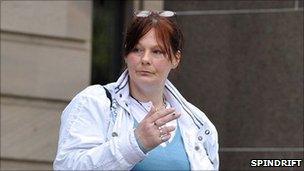 A 49-year-old woman from Glasgow has been found guilty of breaching immigration law by arranging three bogus marriage services.
Janet Cathie, from Cardonald, used her own daughter, partner and a friend to take payments from Ghanaian citizens who were desperate to stay in Britain.
Glasgow Sheriff Court heard the marriages took place in Paisley, Renfrew and Glasgow in 2006 and 2007.
Sentence on Cathie was deferred and she was remanded in custody.
Glasgow Sheriff Court heard how Cathie first targeted friend Donna Taylor, who eventually got wed to Ernest Gyapong at a register office in Paisley in November 2006.
Miss Taylor - who was paid £2,000 - had been introduced to her future "husband" by Cathie.
Miss Taylor, 34, told the trial: "I know that it was a terrible thing that I did, but I did it for the money."
Cathie then lured her boyfriend Robert Tweedie with the promise of cash.
He was married to Charlotte Kramo at Renfrew Register Office in January 2007.
The court heard he knew virtually none of Miss Kramo's personal details and when asked whereabouts in the African country she came from, he replied: "I don't know - Ghana's Ghana."
Cathie's final victim was her daughter Amanda McCourt, who agreed to marry Hayford Kesse at Glasgow's Park Circus Register Office in February 2007.
Cathie had told the 30-year-old, who was heavily pregnant at the time and in a long-term relationship, that she could make her money and that it was "easy to do".
Miss McCourt, who had to give Cathie a cut of the £1,000 she was due, told the trial that she had no intention of living with Mr Kesse and that she too had done it for money.
The trial was told that Cathie had been a witness at all three weddings - but she denied arranging them.
She claimed she had been a Good Samaritan to Miss Taylor and had introduced her to Mr Gyapong in a bid to give the woman "a happy life".
Cathie added: "I try to help everyone. I would rather try and help than hinder."
She said it was a "shock" to be asked to attend Mr Tweedie's nuptials before branding her daughter "a compulsive liar".
Cathie claimed she believed Miss McCourt's African groom was the father of her child - and only realised he was not when the child was born white.
She said: "My own daughter would say it was snowing if it was sunny."
Cathie also told the court she was in the "process" of divorcing a man from Ghana.
She had also been previously married to an Algerian citizen.
Fiscal Mark McGuire said Cathie had "orchestrated" the three fake weddings, but she maintained it was "impossible".
The court also heard Cathie had a lengthy criminal past including a drugs conviction and one of attempting to pervert the course of justice.
Deferring sentence for background reports, Sheriff Johanna Johnston QC told her: "You will be remanded due to the seriousness (of the charges) and your background of offending.
"The likely outcome is that I will have to give serious consideration to a custodial sentence."
Related Internet Links
The BBC is not responsible for the content of external sites.