Regatta at new Riverside museum in Glasgow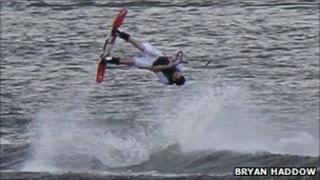 The £74m Riverside Museum in Glasgow has provided the backdrop for a regatta event, featuring events such as wakeboarding and rowing.
The Clyde Waterfront Riverside Regatta was scheduled to end at 1800 BST.
Visiting tall ship, Glaciere of Liverpool, also sailed in, offering visitors the chance to go on board.
The Riverside Museum, Scotland's Museum of Transport and Travel, opened last month.
It houses more than 3,000 exhibits including trains, cars, motorbikes, buses and trams and has more than 150 interactive displays.
The ground floor of the museum, in Pointhouse Place, also includes a recreation of a city street during the 1900s.