Dancers 'strip' to break world record in Oban, Argyll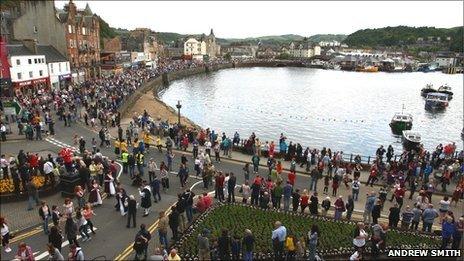 Hundreds of people have turned out for a Scottish country dancing world record attempt in Argyll.
Crowds filled the streets around the piers and along the esplanade in Oban Bay to take part in a Strip the Willow dance at 1830 BST on Saturday.
People formed into groups of eight and danced for five minutes to music by world-famous piper Angus MacColl.
It has not yet been confirmed whether they beat the record set in 2000, when 1,917 people danced in Edinburgh.
Organisers said everyone who took part in the Oban Bay event was given a badge saying "I've stripped for Oban".
The event was part of Oban's Bicentenary Celebrations .