Burma veteran's medals given to Stirling Castle museum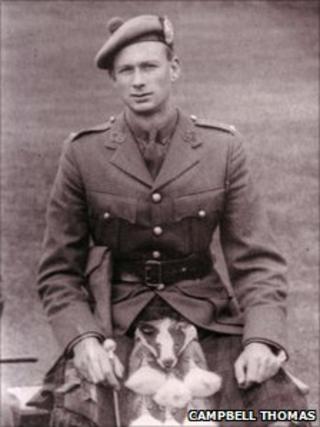 The family of a soldier who survived three years of forced labour on the Burma Railway have donated his medals to his regimental museum.
Kenneth McLeod, from Bridge of Weir, died in March this year, aged 92.
He was captured by the Japanese during World War II and endured injury, severe conditions and the threat of execution.
Mr McLeod's family are donating his war medals, Glengarry bonnet and sporran to the Argyll and Sutherland Highlanders Museum at Stirling Castle.
The former soldier was based at Stirling Castle more than 70 years ago.
He was sent with the Argylls for training in jungle warfare in Malaya and was there when Imperial Japanese forces landed unexpectedly.
He fought with the 2nd Battalion at the Battle of Slim River but was cut off and stranded behind enemy lines and eventually captured.
After recovering from paralysis brought on by poisoning he joined forced labour groups used for the construction of the Burma Railway and the bridge over the River Kwai.
Mr McLeod had volunteered to go to Siam rather than return to Singapore with wounded prisoners, but sabotaged his own work by farming termite eggs which he placed on joints and uprights.
His hand had also been badly injured but he continued laying rails and using a sledgehammer to chisel rock for blasting cuttings through the hillsides.
After the railway was completed the Japanese segregated Mr McLeod and the other Allied officers from the enlisted men.
He later discovered they were all to be executed but the dropping of the atomic bomb on Hiroshima, forcing the Japanese surrender and the end of the war, is believed to have saved his life by 48 hours.
His daughter, Moira Johnston, said: "The army was a huge part of his life and I think it's appropriate that his medals, Glengarry and sporran are going to the regimental museum at Stirling Castle.
"As children we would hear the funny stories from the army but not much about anything else. He kept those experiences to himself."