Erskine deaths inquiry: Concerns over girl's safety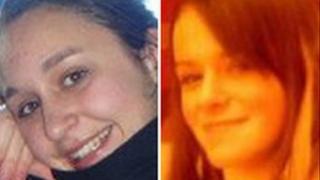 Safety concerns had been raised about a girl who jumped from a bridge in an apparent suicide pact, a fatal accident inquiry has heard.
Neve Lafferty, 15, died along with Georgia Rowe, 14, after they plunged from the Erskine Bridge in 2009.
Both were residents at the Good Shepherd care centre in Renfrewshire.
The inquiry was told reports on moving Neve from the home's secure unit suggested she may not have been ready to make decisions about her own safety.
The hearing at Paisley Sheriff Court was told that Neve had been moved from the centre's open unit into its secure unit in March 2009, after her boyfriend died and she was found to be self-harming.
Adah Lambie, a senior social worker for Argyll and Bute Council, told the hearing Neve had "responded well to such a rigid environment".
But in July 2009, Ms Lambie had supported other social workers who wanted to move the teenager from the secure unit into a close support unit, despite agreeing with reports which were read out in court which said Neve "wasn't ready to make positive decisions about her own safety".
'Not locked'
Simon Gilbride, representing Neve's family, asked Ms Lambie to explain the difference between the centre's secure unit and the close support unit.
She said: "It would be a continuation of working with staff she already knew."
But when pushed to give details about the structural differences in the units, and in particular the levels of security, Ms Lambie replied: "I'm not sure. I'm sorry."
She added: "It was not a secure unit as such but had very close links with the secure unit.
"It would not provide a locked environment as such but it would have a higher staff ratio than in an open unit."
Despite the recommendation, Neve was moved to a care home in East King Street in Helensburgh, her home town, while she waited for a place in the close support unit at the Good Shepherd.
The inquiry was told that four weeks later, she was reported to have taken an overdose and had apparently been making threats that she "wanted to be with Jonny", her dead boyfriend.
The recommendation was made that Neve return to the open unit at the Good Shepherd, as Ms Lambie said she "just wanted to get her out of Helensburgh".
Mr Gilbride asked Ms Lambie if she agreed that the circumstances leading to Neve's move to the secure unit in March "mirrored" those in July.
Ms Lambie told the hearing: "No. She had shown some inclination that she would accept advice and guidance from staff at the East King Street centre.
"She had shown that she could stick to arrangements made with staff. For example, when she was let out into the community to visit her family, she would stick to the agreements made."
Mr Gilbride said: "At this time you were presented with an overdose, exclamations that she wished she was with Jonny, her father was still away - he had by that time moved to Denmark - and she had absconded from the East King Street unit a number of times.
"These are all factors that mirror to a large extent those factors which were apparent in March, which led to Neve being placed in the secure unit."
The hearing continues.