Glasgow Airport bus crash: 22 taken to hospital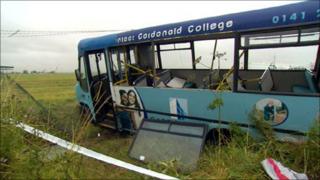 Passengers have been taken to hospital after a bus crashed into a fence near Glasgow Airport.
It is understood the accident happened at about 07:30 on the A726 Barnesford Road.
A spokesman for the Scottish Ambulance Service said no-one was seriously injured, but 22 people were taken to hospital to be checked over.
The road was closed southbound as the emergency services started to clear debris from the scene.
The ambulance spokesman said: "We took 12 people to the Royal Alexandra Hospital in Paisley and 10 others were taken to the Southern General.
"There were multiple resources on the scene but no-one was seriously hurt - all of the casualties were walking wounded. It was mostly bumps and scrapes, but they are being checked over."