Glasgow University Hetherington sit-in ends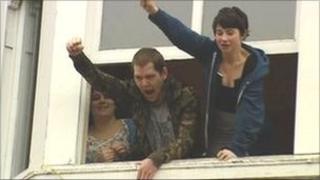 Students who have been occupying a Glasgow University building for more than six months have agreed to leave.
The group is ending the sit-in at the Hetherington building to allow management to convert the former postgraduate club into lecturing space.
Glasgow University confirmed it would create a new social facility for postgraduate students.
The protest group claimed to have also gained concessions on proposed cuts to courses.
Students began the protest at the former Hetherington Research Club on University Gardens in February, angry over cuts designed to save £20m by 2014.
They re-occupied the building in March after being evicted in a stand-off with police.
A Glasgow University spokesman said "The university has always respected the right of students to peaceful protest and we also recognise the depth of feeling there has been on campus about recent cost reductions.
"A new social facility for post graduate students will open in the main building in session 2011/12 and the university will continue to consult with students and their representatives, on future facilities and amenities for the student body."
Free Hetherington spokesman James Humphries said: "Peaceful direct action and direct democracy work - we've proved that and management have accepted it, which in itself is a huge achievement."
The group said it had also secured a public meeting with the principal, Anton Muscatelli, where students and staff can address their worries.