MoD 'old style policing' cuts crime in Helensburgh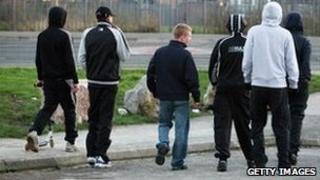 Anti-social behaviour and youth disorder in a large housing estate have been cut by 80%, after a community policing programme was introduced.
The Churchill estate in Helensburgh houses Ministry of Defence workers from the nearby Faslane naval base.
It has been blighted in the past by high rates of petty crime.
Now the MoD police claim a community programme based on "old fashioned policing" has helped reduce trouble and cut crime rates.
The estate is one of a number of sites in the UK with houses built for MoD workers, and is home to about 1,000 military and civilian families.
Three years ago the MoD police dedicated two community police officers to the area to tackle problems including youths drinking in the streets, vandalism and petty crime.
Working alongside Strathclyde Police, they run activities such as a local youth club, a monthly disco and events at a golf club.
If youngsters step out of line their perks are withdrawn.
Ch Insp Jim Gillen, a senior officer involved in the scheme, said one of the first priorities was to install a sense of ownership for the people who lived in the estate.
"It came back to a lack of ownership in the estate because of the type of families we're dealing with, service families who tend to be in one place for two or three years at a time and then move on," he said.
"The neighbouring estates also viewed it as an MoD estate and the facilities in there became a target for juvenile disorder from other places."
The MoD police said the scheme had reduced anti-social behaviour and youth disorder by 80% and had brought the cost of vandalism on the estate down by £58,000 a year.
He added: "It's a massively successful programme. It beat all our expectations."
Cut concerns
However, concerns have been raised that similar projects will fall victim to the cuts likely to be faced by MoD Police as part of the UK government's Strategic Defence and Security Review.
Eamon Keating, national chairman of the Defence Police Federation, the association which represent MoD police officers, said that while the Helensburgh initiative looks safe for now, other UK projects are under threat.
He said: "Currently we've got 70 dedicated defence community police officers located at over 50 locations in the UK.
"They're looking at reducing around 50% of those."
A spokesman for the MoD said: "The MoD attaches very high importance to safeguarding its people and their families.
"The MoD will continue to maintain effective and proportionate levels of security at all its sites."