West Dunbartonshire rejects council sharing plan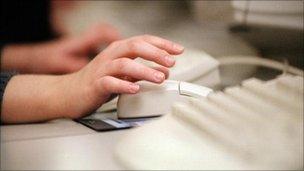 West Dunbartonshire Council is to pull out of a project designed to get councils in the west of Scotland to share their services.
The local authority decided against joining a proposed agency to share back-office functions such as IT and human resources.
Supporters had claimed service sharing could eventually save £30m a year.
However, council leader Ronnie McColl said there were better ways to improve value for money for local residents
He said: "I would like to acknowledge the detailed work undertaken across the Clyde Valley Partnership on the four proposed shared services workstreams.
"However as councillors our first priority is always to do what is right for West Dunbartonshire, and regrettably these proposals were not in the best interests of this council or the local area.
"We believe there is far more potential in seeking local, bespoke partnership solutions for service delivery that can protect the quality of service, while providing better value for money for the tax payers of West Dunbartonshire."
West Dunbartonshire is the second of eight Clyde Valley Councils to opt out of the shared services project
The proposal stems from the Clyde Valley Review - an initiative by eight councils in the former Strathclyde Region to work more closely together and share costs to try to protect frontline services.
The proposed back office agency was the first solid set of plans to be announced.
Even before the announcement, another of the eight councils - South Lanarkshire - had decided this particular scheme was not for them.
The other six Clyde Valley councils are set to decide if they want to take part in the back office scheme over the next few weeks.
However, West Dunbartonshire Council's decision has implications for them. Having fewer councils involved will impact on the potential overall savings for them.
Until now, the council had been at the forefront of moves towards closer co-operation between the Clyde Valley authorities.
Some at Glasgow City Council - the biggest authority involved in the proposals - are known to be concerned that if some of the other councils do not make a big enough commitment to sharing services, it would end up losing money every year and would not recoup its investment in helping to set up the joint agency.
Across Scotland, moves towards shared services are taking two forms.
Some councils have been looking at merging parts of their operations - for instance Stirling and Clackmananshire councils now have a joint education and social work department.
Other councils have been looking at closer working with other public agencies such as the NHS within their area.
Related Internet Links
The BBC is not responsible for the content of external sites.