What now for council service share plan?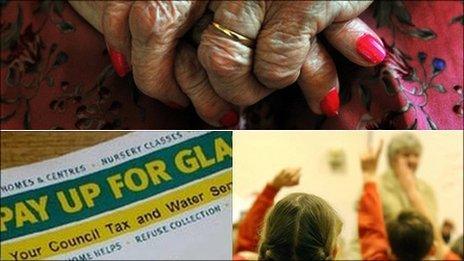 West Dunbartonshire Council's decision to pull out of a service sharing project with other authorities may have knock-on implications.
The council has the right to decide what is best locally and believes there are more effective ways of delivering savings and improving value for money.
Ultimately, its decisions will be judged by council taxpayers.
But the council's move also starts to raise questions over the viability of the whole shared services project.
The so-called Clyde Valley Partnership had been examining ways for councils across the west of Scotland to save cash by pooling certain resources.
With money likely to be tight for years to come, they have been looking at ways of cutting out unnecessary duplication to help minimise the need for cuts to frontline services.
Broadly speaking there are two ways of doing this: working more closely with neighbouring councils and greater co-operation with other public services such as the NHS.
West Dunbartonshire has now decided that the latter option is more in keeping with its needs.
But, until recently, it had seemed certain that the solution in the west of Scotland lay primarily in closer collaboration between councils. Indeed, West Dunbartonshire had been playing a key role in the project.
Potential options were first outlined in a report by Sir John Arbuthnott two years ago, commissioned by eight of the councils in the former Strathclyde region.
With West Dunbartonshire out, just six of the councils are signed up to the whole project. South Lanarkshire had already stepped back.
Some at other councils say West Dunbartonshire's decision is "not helpful" to the shared services project but strongly deny that it represents a fatal blow.
They point out that the whole aim of the scheme was to identify areas where councils could co-operate or share services - but that it was always up to each council to decide what was right for them.
The plan for a shared agency covering things like IT and human resources was the first solid scheme to emerge.
The six councils which are still considering this proposal should reach their decisions on whether to join in over the next few weeks. The largest councils involved are Glasgow and North Lanarkshire.
Broadly speaking, the more councils are on board, the greater the potential for overall savings to be achieved by each one.
If more were to pull out, the sums may change because a back-office service for, say, three councils is unlikely to deliver the same overall savings as one for seven or eight.
Some in the private sector, where outsourcing back office functions is common if on occasion controversial, may well wonder why some councils are not prepared to do this if local services are still being cut.
If this particular scheme flounders completely, some may wonder what the chances are of agreeing changes to services which the public may actually notice.
However, others within local government argue this is too simplistic. With different authorities of different size, the benefits to individual authorities of sharing their back offices varied.
Other proposals for ways west of Scotland councils may work together - for instance on waste management - are due soon.
Related Internet Links
The BBC is not responsible for the content of external sites.