Judge's concern over Kevin Carroll murder trial 'delay'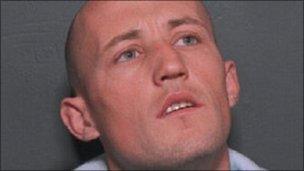 A judge has criticised the time it is taking to bring the case against a man accused of murdering Glasgow gangland figure Kevin "The Gerbil" Carroll.
At the High Court in Glasgow, Lord Bonomy continued the case against Ross Monaghan for seven days to allow further inquiries to be made.
But he "expressed concern" about the time being taken to bring it to trial.
Mr Monaghan, 29, denies murdering Mr Carroll outside the Asda store in the city's Robroyston area in January 2010.
The case was continued for DNA and mobile phone analysis to be carried out.
Lord Bonomy said: "This court is expressing concern about the time being taken to bring this case to trial."
He told defence QC Paul McBride: "The court wants its concerns to be conveyed by you to those who are carrying out this analysis to be sure they are aware of the ongoing urgency attached to this."
It is claimed that while masked and acting with others, Mr Monaghan repeatedly discharged loaded handguns at Carroll, 29, and shot him on the head and body.
He also faces further charges in relation to the incident while in the company of other people.
He is alleged to have attempted to defeat the ends of justice by disposing of a revolver, pistol and ammunition within undergrowth in Coatbridge and Airdrie, both North Lanarkshire.
It is also claimed a car - bearing false number plates - was set on fire.
Mr Monaghan also faces a number of firearms charges.
It is alleged he possessed a revolver and a self-loading pistol without the required certificate and having the prohibited weapons without the authority of the Secretary of State or the Scottish ministers.
He also faces similar allegations in relation to the possession of bullets.
Mr Monaghan is accused of the reset of a car or an alternative accusation of travelling in the vehicle knowing it had been taken without consent.
It is alleged these offences occurred while he was on bail from the Sheriff courts in Glasgow, Lanark and Airdrie.
Mr Monaghan denies all the charges against him. No trial date has been set.
Related Internet Links
The BBC is not responsible for the content of external sites.