Woman offers reward over £30,000 jewellery theft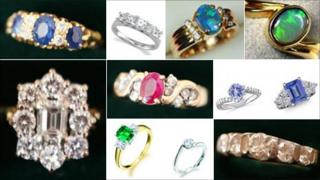 A woman is offering a reward for the return of £30,000 worth of jewellery which was stolen during a night out.
The 44-year-old noticed a wallet, which contained the items, was missing after she arrived at a restaurant in Glasgow shortly after 20:00 on 27 August.
Shortly before, she had travelled with a friend on a train from Milngavie to Glasgow Central low level station.
British Transport Police (BTP) is investigating the theft of the eight diamond rings, earrings and pendant.
The jewellery was stored in the woman's burgundy wallet, which had a cream lining.
The items included a solitaire diamond ring; an emerald and diamond three stone ring; a five stone brilliant cut diamond ring; a brilliant cut diamond pendant and gold chain; a pink sapphire and diamond cluster ring; brilliant cut diamond stud earrings; two tanzanite and diamond rings; a ruby and diamond ring; and a black opal and diamond ring.
Det Con Pamela Connelly, from BTP, said: "Notwithstanding the obvious monetary value of the jewellery stolen, the items also have great sentimental value to the lady, as many of them belonged to family members.
"I am appealing for anyone who has any knowledge regarding the whereabouts of the jewellery, or indeed has been offered items fitting their descriptions in unusual circumstances, to contact me as a matter of urgency."