Hundreds expected to compete at Glasgow Jiu Jitsu event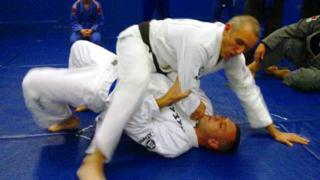 Hundreds of martial artists are expected to take part in Scotland's biggest Brazilian Jiu-Jitsu (BJJ) competition in Glasgow.
The Glasgow BJJ Open will take place at the Kelvin Hall International Sports Arena on 15 October.
Fighters from Scotland, England and Denmark have registered for the tournament.
Organisers have said they expect the event to surpass its previous record of 140 entrants.
BJJ was developed in Brazil by the Gracie family, who trace their roots to Morton, near Dumfries.
The style focuses on grappling and ground fighting, with competitors using techniques such as joint locks and choke holds to force their opponents to submit.
In the early 20th Century, Carlos Gracie studied the Japanese art of judo under black belt Mitsuyo Maeda.
He and his younger brother Helio adapted the techniques of judo, focusing on controlling opponents on the ground and developing an array of painful submission holds.
The new Jiu-Jitsu style gained a reputation in Brazil, where the Gracies and their students competed in violent vale tudo ("anything goes") fights.
'Something different'
Originally promoted as circus side-shows, the bouts eventually became a popular television spectacle. There were few rules, and injuries were common.
But it wasn't until 1993 that BJJ found worldwide recognition, when Helio Gracie's son Royce won an eight-man tournament at the first Ultimate Fighting Championship (UFC), which pitted experts in different martial arts against one another.
Mr Gracie's success in the tournament, in which he defeated larger and stronger opponents, inspired many to take up BJJ, and the art has since spread around the world.
James McIntyre, a high school teacher, organised the first Glasgow BJJ Open event in 2008.
"At the time there was absolutely nothing happening in Scotland", he said.
"If you wanted to compete, you had to go to London or Manchester, but some of the competitions weren't very well organised at all.
"I ran the first tournament with some team mates. We only had 60 or 70 entrants, but the sport has really grown since then and now there are clubs in Glasgow, Edinburgh, Dundee, Aberdeen and all around the country."
World champions
Organisers have offered free registration to high-ranking competitors to encourage them to take part.
Scott McVeigh, a BJJ instructor, has several students set to participate in the tournament. One of Scotland's few black belts, he has trained in the art for more than 12 years.
"I got interested when my uncle gave me a video of the first UFC", he said.
"I'd done karate and Thai boxing previously, but this was something different and something that I really wanted to get into.
"I started training and studying video tapes of the Gracies, and then in 2001 I got the opportunity to actually bring Royce to Scotland to conduct a seminar."
In 2008, Mr McVeigh travelled to Brazil to train at the Gracie Humaita academy in Rio de Janeiro.
"There's a great sense of camaraderie when you train in Brazil - no matter where you're from, you're treated like a long-lost brother", he said.
"You walk onto the mat and you're surrounded by world champions and well-known fighters, you can really learn a lot.
"I'm planning to go back with some students next year, and when I come back I hope to find somewhere to teach BJJ full time", he added.
Coming home
While Mr McVeigh found a warm welcome in Brazil, Royce Gracie has similar feelings when he crosses the Atlantic to the land of his ancestors.
"I've been training with Scott for over 10 years, and he really knows how to pass on techniques", he said.
"There are a lot of talented people in Scotland, and if students practise and show discipline, they'll learn more than Jiu Jitsu techniques, they'll learn a way of life.
"I come to Scotland twice a year, and my brother and cousin come over too.
"Every time I'm in Scotland, it feels like coming home."