Staff on strike over pay at Glasgow's Stow College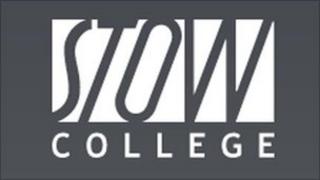 Dozens of support staff at Stow College in Glasgow have walked out in a dispute over pay.
The union, Unison, said canteen workers, caretakers, cleaners and administration staff had not received an expected pay rise in August.
The 24-hour strike is aimed at securing a "living wage" of £7.20 an hour.
Stow College said all evening and adult special needs classes had been cancelled on Wednesday but all other classes were continuing "as normal".
The walkout has also closed the college's Food on 5, Cafe Connect and the Stow West Refectory.
More than 40 staff manned a picket line at the main campus in Glasgow on Wednesday morning.
'Pay freeze'
One of the placards on the picket line had the words "protecting paying jobs at Stow College".
Chris Greenshields, a Unison steward at the college, said he expected almost all of the 90 Unison members at the college to take part in the first day of strike action.
He said: "People are enthusiastic and we have had support from other union members at the college and students.
"At the start of August we were due a pay increase and there has been none - there is a pay freeze. The management have not shown any urgency."
Mr Greenshields claimed there was also a threat of some of the support roles being run by private firms where terms and conditions would be "eroded".
He said: "Our members provide valuable services to staff and students at the college, but many are living on poverty pay.
"The SNP government promised to protect the lowest-paid workers from the worst aspects of the recession, yet Stow College refuses to introduce the living wage for our members - many of who are low-paid women workers - and on top of this, we are now facing a real-term pay cut.
"The decision to take strike action isn't a decision we take lightly but we hope this will make Stow College think twice about their decision and decide instead to honour their commitment to fair pay for our members."
Unison said more strike days were planned in the dispute.
'Constructive dialogue'
A statement from Stow College said: "The college very much regrets that Unison will proceed with the planned day of industrial action, although the management of the college remains open to constructive dialogue.
"The action takes place against a background of economic and political challenge with a budget cut earlier in the year of 9.01% which amounted to £736,000.
"This was followed last week with the announcement from the Scottish government of future cuts to public spending at a level of £74m to the college sector.
"Against that background, the board and the college executive management remains committed to a strategy which looks to sustain the college's future."