Statue marks Clyde site where Lancastria was built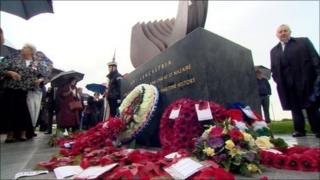 A statue has been unveiled on the former site of a Clyde shipyard where a sunken World War II ship was built.
The Lancastria went down off the French coast in 1940 with the loss of 4,000 lives.
It was Britain's worst maritime disaster.
First Minister Alex Salmond unveiled the memorial in the grounds of the Golden Jubilee Hospital in Clydebank, which sits on the site of the yard where the Lancastria was constructed.
The Cunard liner was converted to a troop ship and attacked off the Saint Nazaire coast on 17 June 1940.
She sank in just 20 minutes but news of her loss was not reported because Prime Minister Winston Churchill thought it would affect morale.
Fateful day
For the past six years, the Lancastria Association of Scotland has been campaigning for recognition of the disaster.
Survivors and relatives of those lost when the ship went down attended the unveiling ceremony.
Mr Salmond said: "Through the tireless work of the Lancastria Association of Scotland, it is only right and fitting that we should have a monument here in Scotland, close to the site of what was the William Beardmore and Sons shipbuilding yard.
"At this yard the Lancastria was originally built as a pleasure cruiser, only to later become a troop ship. This memorial will be a comfort and focus of remembrance for the thousands of relatives who lost loved ones on that fateful day."
Fiona HT Symon, from the Lancastria Association of Scotland, said: "For the last six years we have been determined to achieve the right and proper acknowledgement for the thousands of men who died, including my father, Andrew T Richardson, when the Lancastria was sunk off the coast of St Nazaire 70 years ago.
"Today's ceremony gives the association a sense of great satisfaction and fulfils the hope of a lifetime for many of us.
"Now, for all time, there is a major memorial in Scotland to remember and honour, both those who died, and the survivors who had to live with the lasting memories."
In 2007 the Scottish government announced that the Scots victims of the Lancastria disaster would be officially recognised with commemorative medals.