James Bond film finale to be shot at Duntrune Castle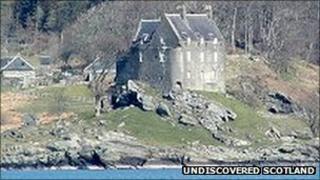 The final scenes of the new James Bond film are to be shot at Duntrune Castle, near Lochgilphead in Argyll.
Patricia Malcolm, who lives in the castle with her husband Robin, said several days of filming would start at the end of February 2012.
The 23rd Bond film, which will be Daniel Craig's third outing as 007, is rumoured to be called Skyfall.
It follows the shooting of two other Holywood films - World War Z and Cloud Atlas - in Scotland recently.
Mrs Malcolm said: "They are coming here at the end of February and are going to film for several days.
'Ancestral home'
"They are using the castle - just the outside - it's going to be used for the end of the film.
"I think it is meant to be James Bond's ancestral home - he will bring all the villains here.
"I believe it's mostly being filmed in China and Turkey. They want a winter scene, so they are going to bring their own snow."
Mrs Malcolm said fans could expect an explosive end to the latest instalment of the spy's adventures.
She said: "It looks as if they are going to construct the set and then blow it up.
"I think they are going to attack the castle from land and sea - there are going to a lot of bangs and explosions."
Builders are set to begin work on the site early in the new year - and boost the local economy by employing craftsmen from the area.
Cast and crew are also expected to stay in the area, generating business for local hotels, restaurants and bed and breakfasts.
The castle is about 95 miles from Glasgow, which has played host to two other major Hollywood films this year.
Scenes from Brad Pitt's zombie film World War Z were filmed in Glasgow city centre in August, while Halle Berry visited in September to shoot scenes for Cloud Atlas.
The city has also hosted Peter Mullan's film Neds, the forthcoming Perfect Sense with Ewan McGregor and Eva Green, and The Decoy Bride, starring David Tennant.