SPT approves cut to 65 jobs from Glasgow Subway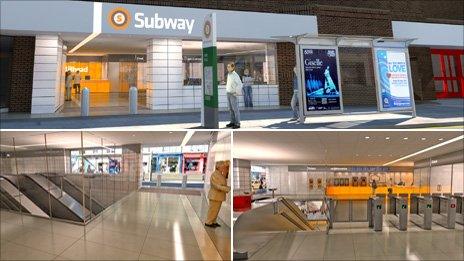 Proposals which could lead to the loss of up to 65 jobs from the Glasgow Subway system have been approved.
Strathclyde Partnership for Transport (SPT), which operates the system, has looked at how staffing could change as part of a £290m revamp plan.
Its personnel committee has backed proposals to cut staffing levels from 323 to 258, saving £1.1m annually.
The paper which went before committee members on Friday stated: "Redundancy is an option of last resort."
Earlier this year, Scottish ministers formally backed SPT's proposals to revamp Glasgow's Subway, promising a "substantial contribution" to the overall cost.
The scheme will see all 15 stations on the six-mile long system redeveloped, disabled access improved and a smartcard ticketing system brought in.
Driverless trains will also be introduced along with an increased frequency of services.
SPT's personnel committee approved plans to deliver a smaller workforce and make annual savings of £1.1m.
The paper stated: "Any reductions in the workforce will be achieved, where possible, with the co-operation of employees, through retraining and redeployment, natural wastage, voluntary severance, and early or flexible retirement programmes."
SPT chairman Jonathan Findlay said: "We've always been clear that in delivering a world-class system fit for the future, working practices would have to be examined along with our physical infrastructure, trains and signalling.
"By introducing new technology and creating more flexibility within our workforce, we've now identified savings of a further million.
"Our proposals are all subject to consultation with unions and employees but we have to accept that, although difficult decisions have to be made, there is an opportunity to make significant savings for the public purse while dramatically improving the service we provide.
"That is something which cannot be ignored."
Related Internet Links
The BBC is not responsible for the content of external sites.