Glasgow Boys gallery opens at Kelvingrove museum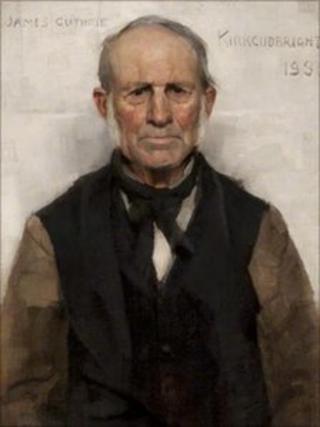 A new gallery dedicated to works by a group of artists known as the Glasgow Boys is to open to the public at Kelvingrove Art Gallery and Museum.
The Glasgow Boys were 23 artists who worked in the city from the 1880s.
The permanent display is to feature more than 60 paintings spanning the group's career.
It follows the success of the previous exhibition which was seen by more than 243,000 people at Kelvingrove and the Royal Academy in London.
The 2010 exhibition, Pioneering Painters: The Glasgow Boys 1880-1900, was the first devoted to the group since 1968.
The new gallery features work taken from the whole of the artists' careers.
The new display is to feature many popular Glasgow Boys paintings from Glasgow's collection, including The Druids - Bringing in the Mistletoe and Old Willie - the Village Worthy.
They will be displayed alongside works which have not been seen in public for a number of years.
Lord Macfarlane of Bearsden, who was chairman of the Glasgow Boys exhibition committee and has recently retired from the board of Glasgow Life, said: "Last year, the Glasgow Boys found a new and appreciative audience thanks to the exhibition held at Kelvingrove and the Royal Academy.
"Many people who saw that exhibition told us that they wanted more and it is entirely fitting that this new, permanent gallery at Kelvingrove will show more of their works and help more people come to understand and appreciate the talent of the Glasgow Boys."
'Lasting reminder'
More than 120,000 people paid to see the 2010 exhibition at the Kelvingrove - making it the museum's best-selling visual arts exhibition.
Councillor George Redmond, chairman of Glasgow Life, said: "Lord Macfarlane has long been a supporter of the Glasgow Boys and it's no small measure of his success that they are finally enjoying the recognition they deserve.
"He will be forever associated with the refurbishment of Kelvingrove and this new gallery is a lasting reminder of the cultural endeavours he has undertaken for Glasgow."
Despite having very different styles, the Glasgow Boys shared the same ideals of art - choosing natural subjects and locations over the more established studio work.
Their first major art show in 1885 caused a sensation at the time.