Occupy Glasgow protesters consider move to Kelvingrove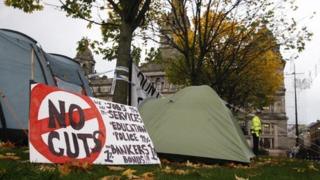 Anti capitalist protesters in Glasgow's George Square have reached an agreement with the council over plans to relocate their campsite to Kelvingrove Park.
The Occupy Glasgow group are considering holding a rally on Saturday before marching to their new location.
The activists, who stand in solidarity with a global "anti-greed" movement, moved into George Square on 15 October.
Glasgow City Council said it wanted them to leave before events planned to mark Remembrance Day next week.
However, one protester contacted BBC Scotland insisting that a group at the camp who spoke to council officials and reached an apparent agreement, did not speak for her.
Sheriff 'grateful'
The council had taken the matter to Glasgow Sheriff Court where a warrant was issued to eject protesters from the site no sooner than midnight on Sunday.
Sheriff Andrew Normand said as he closed proceedings: "I am grateful to both parties for the manner in which they have dealt with this matter."
A spokesman for Glasgow City Council said: "We've been seeking a negotiated settlement right from the start. We've always said we respect people's right to makes their voices heard.
"The site they will be moving to allows them to maintain a presence while minimising disruption to the people of Glasgow."
Any protesters remaining in the square on Monday will be removed by the council and their property will be collected and moved to the new site in Kelvingrove Park.
Lawyer Aamer Anwar, who said he was representing the protesters, said: "It's a victory because, as I understand it, it's the first time the council have offered an alternative location for an occupation that's taking place on city council property.
"One view of the occupiers will be that Glasgow City Council perhaps support the anti-capitalist movement and have given a helping hand to the protesters by relocating them to Kelvingrove Park."
He added: "It doesn't interfere with the remembrance commemoration or the Christmas celebrations, and the occupiers didn't want to cause any upset with regards to that."
The anti-capitalist demonstration is part of a growing global movement, sparked by Occupy Wall Street which began last month in New York's financial district.