New anti-greed camp in Glasgow's Blythswood Square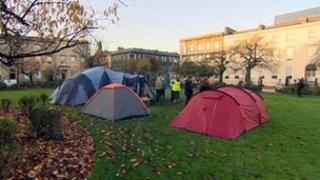 Anti-greed campaigners who have been camping in Glasgow's Kelvingrove Park have set up a "satellite camp" in the city's Blythswood Square.
The protesters moved to the park on 5 November after reaching an agreement with the city council to vacate George Square before Remembrance Day events.
The council said the new camp was wrong and urged protesters to "see sense".
Blythswood Square is owned by surrounding businesses. They are due to meet to discuss their response.
The protesters established the new camp overnight into Thursday.
It comes as authorities in London have threatened legal action against a group occupying an area near St Paul's Cathedral.
The Glasgow protesters told BBC Scotland they chose the location as it was nearer to financial businesses and banking call centres.
'International day'
Camp member Paddy McManus said: "This is part of an international day of action against the banks. We are going to try to persuade people to move from banks to credit unions.
"It's also in support of the occupiers being evicted in Oakland, Wall Street and the due eviction in London."
Another camp member Mark Porciani said: "It's about proving that while they try to clear us out in one part of the world we will pop up in another part."
The protesters believe they will face no council opposition to the new camp because it is on private property.
Mr McManus added: "We are effectively out of the council's hair in this site but we will be negotiating with our neighbours here.
"We want to respect the area and will be doing litter picks and things to look after it."
Glasgow City Council said that as Blythswood Square was privately owned the move was not a breach of the deal it did with the occupation camp.
A spokesman said: "We have done everything we can to balance their right to protest with the right of people to enjoy their city."
"It's wrong for a tiny, unrepresentative group to make life difficult for Glaswegians and we urge them to see sense."