Most Scottish religious hate crimes 'target Catholics'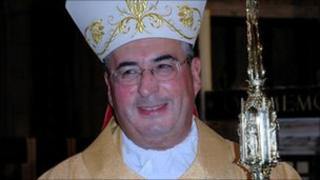 The number of religious hate crimes recorded in Scotland rose by 10% in the past year - with the majority targeted at Roman Catholics.
New figures from the Scottish government show there were 693 charges aggravated by religious prejudice in 2010/2011 - the highest in four years.
The data shows 58% of these were against Catholics with 37% of recorded crimes against Protestants.
Some 2.3% related to Judaism and 2.1% related to Islam.
The figures show there were recorded religious hate crimes in 27 out of Scotland's 32 local authority areas with the majority - 79% - taking place in the Strathclyde police force area.
Football grounds
About 51% of charges were in the Glasgow City Council area. Outside the city, there were high numbers in North Lanarkshire, West Lothian, South Lanarkshire and Falkirk.
Religious hate crime was not recorded in Aberdeenshire, Shetland, Orkney, Western Isles and East Lothian.
One-third of the total 693 charges were made in football grounds. Of those, 47 (52%) were at Celtic Park and 24 (27%) were at Ibrox.
Fewer than 5% of the charges related to marches and parades.
In just over 60% of cases, the accused had consumed alcohol prior to the offence.
Police officers were the most common victims of religious hate crime, accounting for 42% of the incidents.
These often referred to incidents where someone had been arrested and subsequently abused a police officer in religiously offensive terms.
The general community was targeted in almost a third of the cases and members of the public in just over a fifth of the cases.
Zero tolerance
Workers, such as hospital staff, security staff and taxi drivers, were targeted in just over 10% of charges.
Community Safety Minister Roseanna Cunningham said: "These statistics show the shameful reality of religious hate crime in Scotland.
Ms Cunningham said the figures showed there was a "disproportionate number" of crimes related to football and this underlined the need for the Offensive Behaviour at Football Bill currently going through Holyrood.
"We must deal with sectarianism in the same way as with racism, and drink-driving," she added.
"This bill will not be the conclusive answer or the only solution, but it is the beginning of the end.
"You can either do nothing and allow the status quo which allows the mindless bigot to thrive or we can take the strong action needed now and send out a message loud and clear that this behaviour is not going to be tolerated any longer."
Ms Cunningham's assertion that the figures underlined the need for new legislation was disputed by Labour's community safety spokesman, James Kelly.
"These statistics show that the law, as it stands, is working well, with an increasing number of convictions being secured for religious hate crimes," he said.
"Confusion continues to reign over what the SNP's knee-jerk 'something must be done' approach will do to improve the current law that is successfully bringing forward charges and securing convictions.
"The fact that the vast majority - 88% of all offences - were recorded away from football stadiums exposes the SNP's naive and dogmatic belief that sectarianism is solely a football problem."
The data relates to charges under Section 74 of the Criminal Justice Scotland Act 2003. It was published following a pledge from First Minister Alex Salmond.
The legislation defines a religiously aggravated offence as an incident where the offender evinces towards the victim "malice and ill-will based on the victim's membership (or perceived membership) of a religious group or a social or cultural group with a perceived religious affiliation", or, the offence is motivated by the same.
The Catholic Church said the figures were evidence of "entrenched hostility" against the faith in Scotland.
Bishop Philip Tartaglia, president of the communications commission of the Bishops conference of Scotland, said: "Catholics will take little comfort from the fact that they were previously five times more likely to suffer a sectarian attack than anyone else and are now 4.5 times more likely.
"Since Catholics represent just 16% of Scotland's population, the fact that they account for almost 60% of the victims of sectarian crime reflects poorly on modern Scotland and is an indicator of entrenched hostility on a worrying scale."
Nationwide debate
Bishop Tartaglia said the figures would make a "useful contribution to the sectarianism debate" but highlighted that it had "taken five years and repeated requests" from the Catholic Church to access them.
He said that, "in the intervening period, hundreds of Crown office documents have been destroyed, preventing a more complete and balanced analysis".
The anti-sectarianism charity Nil By Mouth said there was a need for a nationwide debate on how to tackle the problem.
Campaign director Dave Scott said: "It's particularly worrying that 60% of those convicted are under 30. We cannot lose another generation to the battles of the past.
"With convictions secured in 27 out of 32 local authority areas its clear we need a real nationwide debate on how we tackle sectarianism and it's root causes.
"It goes beyond our football terraces and into our workplaces, communities, institutions and home and we call on our government, parliament and civic society to help us create a nationwide action plan to rid our country of this shame forever."
Celtic Football Club welcomed the release of the figures but said it was important to clarify their context and said the vast majority of religious hate crimes took place away from football stadia.
In a statement, the club said: "It is noted that Celtic Park is mentioned as being the location for 47 charges.
"Fourteen of these offences relate to Celtic supporters, with 33 relating to supporters of visiting teams.
"It is important also to stress that the 14 Celtic supporters involved have all been banned from Celtic Park."