Four Dunfermline fans arrested over racist chants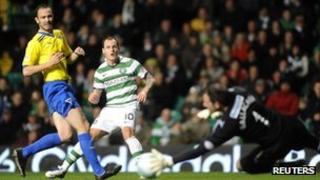 Four Dunfermline fans have been arrested over racial chanting at their team's game against Celtic in Glasgow on Wednesday night.
The men, aged 22, 20 and two 19-year-olds, were arrested in Dunfermline following a joint operation by Fife Constabulary and Strathclyde Police.
They are expected to appear at Glasgow Sheriff Court on Tuesday.
The officers from Strathclyde Police were part of the newly-formed Football Co-ordination Unit for Scotland.
The four men were arrested following an incident during the game at Celtic Park, where it is alleged a small group of Dunfermline fans were involved in chanting racial comments towards the home support.
The game was won 2-1 by Celtic.
'Clear message'
Sup David Brand, a member of the new football co-ordination unit, said: "This operation again demonstrates the close working partnership between the new national unit and Scottish forces to eradicate sectarian, racial or offensive songs at football matches across Scotland.
"It also sends a clear message to offenders that this type of behaviour will not be tolerated and through post-investigations, we will attempt to identify and arrest those responsible.
"We will continue working in close liaison with our colleagues across Scotland to crack down on those minority fans that are intent in engaging in this type of behaviour."
Dunfermline Athletic FC's safety officer, Kenny Arnott, added: "We have been working with the police to stamp out this kind of behaviour, we fully support actions to prevent and detect those involved.
"Dunfermline is a family-friendly club and we welcome actions which will improve the experience for people attending football games."