Gamekeeper David Whitefield admits poisoning buzzards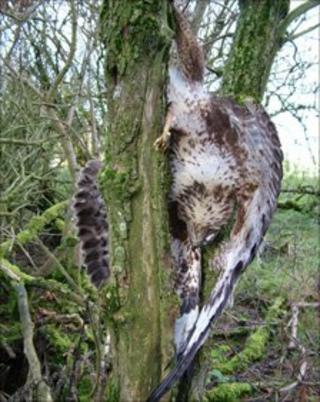 A gamekeeper has admitted poisoning birds of prey at a farm in Biggar, South Lanarkshire.
David Whitefield, 41, admitted poisoning four buzzards with chloralose baits at Coulter Allers Farm between March and November 2009.
Lanark Sheriff Court heard how he was caught after Scottish SPCA officers and police searched the farm, which ran a pheasant and partridge shoot business.
Sentence on Whitefield was deferred until January for background reports.
The court heard how he was the only gamekeeper employed at the farm.
Scottish SPCA officers and police searched the land and buildings at the farm on 11 November 2009.
Decomposing carcasses
Whitefield showed officers the carcasses of four buzzards in varying states of decomposition.
He said he had sprinkled poison on the baits to reduce the number of buzzards over the previous six months.
A coffee jar and a bucket containing poison were found inside an unlocked shed in the grounds of the keeper's cottage where Whitefield stayed.
He initially told officers that the landowner was not aware of his actions.
After he was sacked and evicted from his tied cottage, however, Whitefield said he had been asked to reduce the number of buzzards in any way he saw fit, although he had not been specifically told to kill them.
Appearing in court on Thursday, he pleaded guilty to a contravention of the Wildlife and Countryside Act 1981.
It also emerged that he had a previous conviction under the same legislation in relation to not properly disabling and monitoring a crow cage trap in which a buzzard became caught.
Speaking afterwards, area procurator fiscal Tom Dysart said: "The use of poison to kill birds of prey is totally unacceptable.
"David Whitefield had a previous conviction for a similar offence and was well aware of the law and the penalties he faced for breaking it in this manner.
"It is of the utmost importance that we protect Scotland's rich natural heritage, and this includes the wildlife that live within it."
RSPB Scotland head of investigations, Bob Eliott, said: "We're delighted with the outcome of this case. We now await news of the sentencing.
"We hope this will reflect the serious nature of the offences committed.
"It's high time that such illegal activity which damages Scotland's international and domestic reputation was consigned to the history books."