Charges withdrawn in Kimberley Hainey murder trial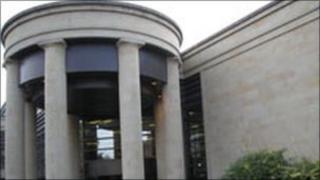 A woman accused of murdering her 23-month-old son at their home in Paisley has had a number of allegations against her withdrawn by the Crown.
Kimberley Hainey is no longer accused of assaulting Declan, leaving him in wet and soiled nappies, and causing him to ingest diamorphine and amphetamines.
The 37-year-old remains accused of murdering and neglecting the child who was found dead in March 2010.
Ms Hainey denies the remaining charges against her.
The High Court in Glasgow has heard that Declan was last seen in public in July or August 2009.
Charges withdrawn
His decomposed and mummified body was discovered in his cot at the family home in Bruce Road, Paisley, on 30 March 2010.
Experts believe he had been dead for months.
At the High Court in Glasgow, advocate depute Andrew Stewart QC withdrew parts of the murder libel at the end of the Crown case against Ms Hainey.
He also withdrew three charges against her for possessing heroin, supplying heroin and stealing a camera and a quantity of alcohol.
Judge Lord Woolman formally acquitted Ms Hainey of these three charges.
Jurors were told to return to court on Monday. Legal matters will be discussed outwith the presence on Friday.
Earlier, Professor Neil Sebire, a consultant paediatric pathologist at Great Ormond Street Hospital in London, told the court that he agreed with the pathologists, who carried out a post mortem examination, that the cause of Declan's death was unascertained.
Prof Sebire was asked by defence QC Edward Targowski: "As far as children are concerned a mother could come and find her child had died in the morning?"
He replied: "That's correct."
Mr Targowski then asked: "There may well have been an explanation for Declan's death, but we just don't know."
Body mummified
Prof Sebire replied: "Yes. I agree it is impossible to determine the cause of death."
The pathologist was then asked: "You can't tell if his death was a sudden explained death or a sudden unexplained death?"
He replied: "In my opinion, no."
Prof Sebire told the court this was because Declan's body was decomposed and mummified and some tests normally performed at a post-mortem examination could not be carried out.
Ms Hainey is accused of wilfully ill-treating and neglecting her son Declan over a 19-month period between 1 September 2008 and 30 March last year.
The Crown has charged Ms Hainey with either murdering her son or alternatively of neglecting him by failing to provide medical care for him whereby his physical and psychological development were impaired.
It is alleged that she left her son alone and unattended in the house for excessive periods of time, and failed to provide medical aid and care for him.
The Crown alleges that Ms Hainey pretended that Declan was alive in an attempt to defeat the ends of justice between 1 July 2009 and 31 March 31 2010.
Ms Hainey denies all the charges against her.
The trial before Lord Woolman continues.