Erskine deaths inquiry: Care unit was 'under staffed'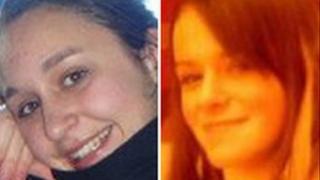 An inquiry into the deaths of two girls who jumped from the Erskine Bridge has heard only half the recommended number of staff were on duty at their care home when they absconded.
Georgia Rowe, 14, and Neve Lafferty, 15, plunged from the bridge in an apparent suicide pact in October 2009.
Sandy Cunningham, head of the Good Shepherd Centre, has been giving evidence at the fatal accident inquiry.
He said he had asked for four staff to be on duty on the night the girls left.
Mr Cunningham told the inquiry he had wanted that level of staffing to deal with two major issues at the unit in Bishopton, Renfrewshire.
One was Georgia's repeated absconding and the other was incidents of sustained and often violent attacks on Georgia by another girl at the unit called Miss M.
However, only two members of staff were on duty - one of whom had to leave to pick up takeaway food for the girls in the unit.
'Experienced staff'
Mr Cunningham said he had done everything he could to fill the rota, but he couldn't conjure up another person.
He said his phone was on and he could respond within ten minutes, but otherwise his "experienced staff had said he wasn't needed."
The Sheriff Ruth Anderson QC put it to him: "On this Sunday when you thought everything was OK, two girls left the Good Shepherd Centre and went to their deaths.
"It can't get much worse than that can it? And that's what happened!"
Mr Cunningham said he received a call from the unit at 21:20 saying Neve and Georgia were missing.
A call from the police came 20 minutes later to say two bodies had been found at the bottom of the Erskine Bridge.
The girls were seen on CCTV leaving the care home at 19:47.
The inquiry at Paisley Sheriff Court continues.