Hainey trial: Murder accused claims she was 'good mum'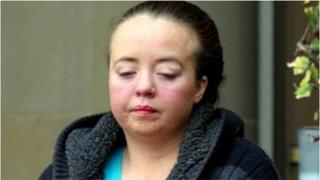 A woman accused of murdering her toddler son has told jurors she was "a good mum".
Kimberley Hainey, 37, denies killing young boy, Declan, concealing his body and pretending that he was still alive to avoid a police investigation.
Giving evidence for a third day at the High Court in Glasgow, Ms Hainey denied neglecting her son.
She said: "That's not true. My child was healthy. Everyone said I was a good mum. I was a good mum."
Ms Hainey was under cross-examination by prosecutor Andrew Stewart QC.
Neglect denial
She made the reply after he said witnesses at her trial said she left Declan at home on his own.
The accused added: "This is my child we're talking about. I didn't neglect him."
Declan was last seen in public aged about 15 months in July or August 2009.
His decomposed and mummified body was discovered in his cot at his home in Bruce Road, Paisley, on 30 March 2010.
Experts estimate he had been dead for months.
In evidence Ms Hainey admitted leaving Declan home alone while she went to a nearby supermarket to buy formula milk for him and on another occasion when she popped into a neighbour's house for a chat.
She told the court that she spent time at boyfriend Robert Milton's house in Paisley but insisted that was after Declan had died.
Mr Stewart said: "That was in June 2009 when Declan was alive, wasn't it?"
She replied: "No I never neglected Declan. Why would I. I leave my son in the house. If I wanted to go out there were people I could ask to look after him. It's not true."
Mr Stewart then asked Ms Hainey about the state of her house when police found Declan's body. He described it as "a mess".
Declan 'spotless'
The accused told him that she gave up tidying after Declan died and added: "I lost my world when Declan passed. I lost my boy. Declan was spotless and so was I. I just lost it. That wasn't how my child lived. It wasn't."
Ms Hainey is accused of wilfully ill-treating and neglecting her son over a 19-month period between September 2008 and March last year at Bruce Road, Paisley.
The Crown has charged Ms Hainey with either murdering her son or alternatively of neglecting him by failing to provide medical care for him whereby his physical and psychological development were impaired.
It is alleged that she left her son alone and unattended in the house for excessive periods of time, and failed to provide medical aid and care for him.
The Crown alleges that Ms Hainey pretended that Declan was alive in an attempt to defeat the ends of justice between July 2009 and March 2010.
Ms Hainey denies all the charges against her. She has already been cleared of giving Declan drugs.
The trial before Lord Woolman continues.