Scots stars The Krankies reveal swinging 'ding dongs'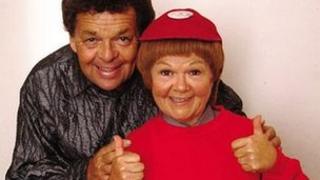 Children's TV stars The Krankies have revealed details about their private lives, confessing to indulging in "swinging" in the 1970s and 80s.
Ian and Janette Tough, who soared to fame on TV show Crackerjack, described their "active" relationship in an interview on BBC Radio Scotland.
The couple, both 64, said they had an "anywhere, anytime" attitude.
They confessed to presenter Edi Stark to having the occasional "ding dong" with other people.
The husband and wife duo were speaking to BBC Scotland ahead of starring in the Robinson Crusoe pantomime with John Barrowman at Glasgow's Clyde Auditorium.
The pair met aged 18 and married when they were 21.
'Whale of a time'
Revealing some details of their exploits Janette, famous for playing the part of naughty schoolboy Wee Jimmy Krankie, said: "We had a little boat, it was only a little 12ft boat and we went out for Sunday lunch one day.
"We thought we would get a bit romantic on this boat out at sea and we nearly ended up in France."
Ian revealed that their wildest antics happened when they were at their most famous, touring in the 1980s.
"I think we were suddenly top of the bill on a fabulous tour that was doing great business and everyone roundabout us was having a whale of a time and we thought we are missing out here."
Janette added: "We weren't behind each other's backs. We knew what each other was sort of up to."
Husband Ian said: "But then we thought, 'we are playing with fire here'. What we started to worry about was that the other people were getting jealous."
The couple said they had escaped any publicity over what they were up to, which would be very different now.
"Today it would be in the papers instantly. In those days people were very good," said Ian.
Beanstalk fall
The couple also recounted an incident in which Ian punched magician Paul Daniels as they drank in a bar after a show in Jersey.
He said: "I was a bit punchy when I was in my 30s.
"I think he must have said something to contradict what I was saying.
"I just went bang and he went off the chair and the whole bar applauded and said it was time somebody did that."
The couple made their name on Crackerjack and went on to host The Krankies Club on ITV.
They have achieved cult status over the years and are now panto regulars.
However, they did take time away from the pantomime circuit after Jeanette's fall from a 10ft mechanical at Glasgow's Pavilion Theatre in 2004.
She told Edi Stark: "I could have died. I was very lucky."
She also revealed that afterwards she battled with depression and stage fright.
Ian added: "Physically she mended well but mentally she didn't mend too well.
"She got frightened and depressed. That's the biggest fight we had to deal with."