Scottish anthrax outbreak 'worst in UK in 50 years'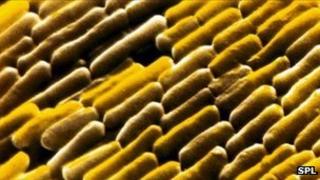 An outbreak of anthrax among drug users in Scotland between 2009 and 2010 was the largest in the UK for 50 years, according to an official report.
Health Protection Scotland (HPS) said there were 119 cases of anthrax and a total of 14 deaths during the outbreak.
Its report also recorded it as "the first documented outbreak associated with heroin use anywhere in the world".
HPS warned that as long as there was an illegal drug trade there was a risk of a similar outbreak.
The report concluded that the anthrax came from "contaminated heroin imported to Scotland".
This, if found, was from "a single batch contaminated with anthrax spores via contact with a single infected animal or contaminated hide".
The HPS report said this was likely to have happened "somewhere in transit between Afghanistan/Pakistan and Scotland, probably in Turkey".