Craig Roy admits fatally stabbing schoolboy Jack Frew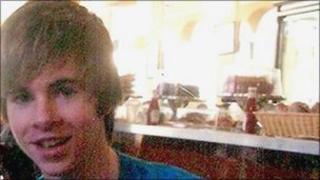 The man accused of killing schoolboy Jack Frew has admitted fatally stabbing the teenager.
Craig Roy's lawyer told the High Court in Glasgow that he stabbed the 16-year-old in East Kilbride in May 2010.
David Burns QC told the jury: "Mr Roy does not dispute that he carried out this attack on Jack Frew - that he stabbed him with a knife."
Mr Roy, 19, denies murdering the schoolboy. The trial before judge Lord Doherty continues.
Earlier, the court heard from Mr Roy's partner, Christopher Hannah.
The 20-year-old, a shop assistant from East Kilbride, said he had been expecting Mr Roy to visit his flat when the accused phoned him sometime between 18:30 and 18:45 on 6 May 2010.
'Something wrong'
The witness was asked by advocate depute Jennifer Bain: "What made you think Craig Roy was distressed?"
He replied: "I could hear it in the tone he used. He said that Jack Frew was dead."
The jury was told that Mr Hannah kept Mr Roy on the phone and asked for directions and left his flat to meet him.
Mr Hannah said: "It became apparent there was something very wrong, so, I started to run."
The court was told that after heading into a wooded area, adjacent to Wellesley Crescent and Mossneuk Road, Mr Hannah found his partner.
Ms Bain asked him: "Did you notice anything about him?"
The witness replied: "He had blood all over him. I was worried he was hurt. He wasn't saying anything. He wasn't making sense. He looked bewildered."
Ms Bain then asked: "Was Craig Roy holding anything when you got there."
Mr Hannah replied: "Yes, there was a knife in his hand."
He described it as a short black-handled vegetable knife and the jury was shown a photograph of a blood-stained knife.
Mr Hannah said that his first reaction was to make sure that Mr Roy was alright.
He was asked what his thoughts were about Jack Frew and replied: "Em, indifferent."
Ms Bain asked if he took any steps to establish where Jack Frew was and Mr Hannah told her: "I asked about him, but didn't actually get a reply. I saw him in the background."
Mr Hannah said he told Mr Roy to put down the knife and sit on a nearby tree trunk and then he went over to Mr Frew.
He added: "There was blood round his neck and spatters over his clothing."
'Freaked out'
Mr Hannah was asked what position he was in and he told the court: "No a good one. He wasn't moving and he was lying on the floor ... his neck was cut. It was open."
The witness said he checked Mr Frew's pulse and added: "I knew he wasn't alive."
Mr Hannah said he "freaked out" for about five minutes before phoning the police and an ambulance.
He also telephoned Mr Roy's mother, saying: "I felt I needed an adult."
Earlier Mr Hannah told the court that Mr Frew was also homosexual and said they all used to meet up with friends at the skate park in East Kilbride.
Mr Hannah described Mr Frew as flirtatious and claimed that he had sent him flirty texts and emails.
He added that Mr Roy felt that Mr Frew was coming on strongly to him.
He went on: "I did not particularly like that. I sent him an angry text message to leave Craig alone."
During cross-examination, defence QC David Burns said: "Mr Roy does not dispute that he carried out this attack on Mr Frew on 6 May 2010 and that he struck him repeatedly with a knife."
Jealousy issues
Mr Burns asked Mr Hannah, who is a student at Glasgow Caledonian University, if Mr Roy had spoken of going to his GP with anger and jealousy issues.
The witness replied: "Yes. He was worried about his anger and jealousy. When he was angry he would hurt himself. He would scratch himself on his arms, his chest and sometimes his neck."
Mr Hannah was asked if he was welcome at Mr Roy's home in East Kilbride and he said no and added that his mother Fern Roy thought he had made her son homosexual.
He added: "She thought I made her son gay with my mind control."
Mr Burns asked: "Did she blame you for making him gay?" and he replied: "Yes."
Earlier, the court was played the 999 call made by Mr Hannah, where he is heard sobbing and referring to Mr Frew.
He said: "Someone's murdered him. His throat's slit."
Mr Hannah was asked by the 999 operator: "Do you know who had done this to him?" and replied: "My boyfriend did it."
Complexion 'drained'
He was asked in court how Mr Roy reacted at the scene and said: "His complexion was drained completely white and he was shaking a lot. He was hugging one of his legs. I think he was mouthing something."
He added that Mr Roy was crying and at at one point banging his head off a tree.
In evidence, Mr Roy's sister Robyn, 17, from East Kilbride, said her brother confided in her that he was gay and when he told their parents they were "accepting".
The night of the attack he was in a normal mood and Mr Roy told her he was going to see Mr Hannah.
She told of how Mr Hannah made a phone call that night and said her mother would not speak to him.
Miss Roy asked to speak to her brother, but she said he could not talk.
She added: "I knew where he was so I went to get him."
The jury was told she set off with her mother to find Mr Roy and on the journey she phoned her brother again and said: "He was very upset. He was crying."