Go-ahead for A83 Rest and Be Thankful landslip study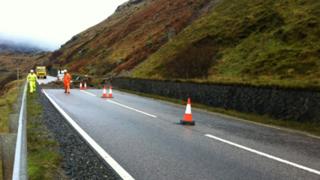 A £100,000 study looking at what can be done to reduce the impact of landslips on a key trunk road in Argyll has been given the go-ahead.
Transport Minister Keith Brown said detailed investigations would be carried out on the notorious site on the A83 at the Rest and Be Thankful.
In the past four years the road has been closed three times by landslides.
After the most recent, in December, about 120 tonnes of mud and boulders had to be cleared up.
Each time motorists have faced a lengthy diversion via the A819 and A85/A82.
Mr Brown said the investigation would look at potential contingency measures and solutions and safety concerns along the route.
He added: "We have all seen again in recent months the enormous impact severe weather can have on our transport network - no more so than at the Rest and Be Thankful on the A83.
"Indeed I am conscious of the impact on local communities following the spate of road closures which were forced on us by the weather.
"That is why I have commissioned this investigation which will be taken forward by a team of engineering specialists."
Local communities
The experts will look at what can be done to manage the effects of landslips and investigate alternative access routes to mid Argyll, including emergency access.
The study will also look into removing traffic pinch points and pedestrian safety in villages along the route.
Transport Scotland engineers will also be attending local events in the coming weeks to explain in more detail the cause of landslips and actions being taken in response to severe weather events.
Mr Brown said: "The Scottish government is determined to do everything it can to address the challenges on the vital road and is keenly aware of the ongoing concern from local communities of the impact of road closures."
The investigation is expected to be completed in the summer.