Jack Frew murder trial hears schoolboy had windpipe cut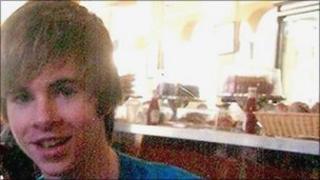 The Jack Frew murder trial has been told that the schoolboy's body had a number of stab wounds to his chest and back and his windpipe had been cut.
Det Sgt James Munro was giving evidence at the High Court in Glasgow, where Craig Roy is charged with murdering the teenager in East Kilbride in May 2010.
Mr Roy, 19, admits stabbing 16-year-old Jack Frew but denies murdering him.
The jury also heard a taped police interview with the accused in which he said he just wanted to scare Mr Frew.
At the time of the killing, both Jack Frew and Craig Roy were pupils at the same school in East Kilbride.
Det Sgt Munro told the court Mr Frew's clothing was "heavily bloodstained" and his T-shirt had holes in it.
The court heard that Mr Munro served as a police officer for 34 years before retiring.
Windpipe wound
He said that he attended the crime scene - in a wooded area off a cycle path - at about 21:00 on 6 May 2010.
The former detective said Mr Frew was lying on his side under a small bush.
Mr Munro was asked by advocate depute Jennifer Bain, prosecuting, what he noticed about Mr Frew's body and he replied: "I noticed that his throat had been cut.
"When I moved the body later on I saw the windpipe had been cut."
The jury was told that Mr Frew had been wearing jeans, a T-shirt and a nylon jacket and one shoe was missing. They were shown photographs of his body.
The detective said he pulled up the T-shirt to see if there were any injuries to Mr Frew's body.
He told Ms Bain: "I saw several at the front and back."
The court also heard that Mr Frew had injuries to his hands.
One of his hands was clenched, but had nothing in it other than moss and greenery from the surrounding area.
Fingertip search
Mr Munro said he searched Mr Frew's pockets, but could find no trace of his mobile phone.
A team of police officers was brought in for a fingertip search of the area and the phone was found 3ft to 4ft in front of his body hidden in undergrowth.
The missing shoe was discovered 3ft to 4ft behind his body next to a tree stump.
Earlier the jury was told that Mr Frew had sent a sexually explicit text to Mr Roy just hours before he was stabbed to death.
The jury was read all 82 texts messages sent between Mr Roy and Mr Frew from December 2009 to 6 May 2010.
Many of them related to schoolwork and four were in schoolboy French.
Later the accused sat in the dock with his head bowed as a taped interview given by him to police three days after Jack Frew's death was played to the court.
In it he told Det Con James Waddell that Mr Frew was a "sex pest".
Mr Roy was asked: "What made Jack Frew a sex pest?" and he replied: "He would never stop just pressurising trying to get what he wanted from anyone at anytime."
The 19-year-old told police that he had given oral sex to Mr Frew in Duncanrig High School, where both boys were pupils, some months before.
Mr Roy claimed Mr Frew had threatened to tell his partner Christopher Hannah what had happened.
He said he loved Mr Hannah and felt guilty about what had happened.
Small knife
The accused described Mr Frew as "over-confident and seemed kind of false".
He said that the schoolboy had told him to meet him at the parish church in East Kilbride on the evening of 6 May 2010.
Det Con Waddell asked Mr Roy: "Did Jack ever say he was going to tell Chris about what happened?" and he replied: "Yes he said he would tell."
Mr Roy told police he took a small knife from home because he wanted to scare Mr Frew off.
He said: "I can't remember how it went. It just happened very, very fast.
"It was only afterwards I realised what I had done."
He was asked if he could remember what he saw when you looked at Mr Frew and he said: "I remember his neck, it was cut open."
The 19-year-old was then asked what else he remembered seeing and said: "Just blood. On me, on him."
He claimed he tried to talk to Mr Frew and check his pulse, but by that time he was dead.
The trial before Lord Doherty continues.