Russell Stirton and Alexander Anderson lose almost £1m 'crime cash'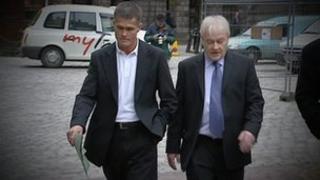 Assets worth £922,000 are to be seized from two men who are believed to have been involved in the illegal drugs trade, extortion, and money laundering.
Glasgow businessmen Russell Stirton, 51, and 54-year-old Alexander Anderson, were targeted by police in 2004.
Neither was prosecuted but the Crown pursued them over alleged criminality through proceeds of crime legislation.
After a lengthy legal battle, both men have been ordered to hand over three homes worth almost £1m.
Stirton and Anderson were targeted during a police inquiry - Operation Maple - in 2004 into alleged money laundering and extortion.
Assets frozen
When no criminal case against the men was brought, the Crown pursued them in civil court under proceeds of crime legislation.
Assets, believed to be worth several millions pounds, were frozen while Stirton and Anderson fought the action.
As the case unfolded, both men were reported to have claimed living expenses from the frozen assets which significantly reduced their value.
It was also reported that they claimed legal aid totalling more than £250,000.
The case was finally settled at the Court of Session in Edinburgh on Tuesday.
In their action, Scottish ministers alleged that Stirton and Anderson held property which had been obtained through involvement in the illegal drugs trade, extortion of money from a taxi firm and money laundering activities.
Judge Lady Stacey ruled that three houses held by Stirton and Anderson, and other assets, valued at £922,000, were obtained through crime.
In her opinion, the judge said: "I have found that Mr Stirton was present when controlled drugs and a hand gun were imported into Dover from Calais in 1997.
"Mr Stirton and Mr Anderson were found to have a large amount of cash in a car on the M74 in 2000, in circumstances from which I infer that they were involved in some capacity in the supplying of controlled drugs or other contraband or the laundering of cash."
Lady Stacey also found that both men had extorted cash from directors of Spring Radio Cars in Glasgow and laundered money by purchasing Skoda cars.
Mortgage fraud
The judge also said: "The houses bought by Mr and Mrs Stirton were obtained by mortgage fraud.
"The house owned by Miss Leonard (Mr Anderson's partner) was obtained by mortgage fraud.
"The loan secured over Thompson's Bar was obtained by fraud.
"The various insurance policies and investments held by Mr Stirton and Mrs Stirton, excluding child benefit, were paid for by money acquired by unlawful conduct."
Speaking after Lady Stacey's ruling, Ruaraidh Macniven, head of the Civil Recovery Unit (CRU), said the decision vindicated his team's assessment that Stirton and Anderson held property obtained through drugs, extortion, fraud and money laundering.
He said: "The CRU does not shy away from difficult and complex cases which can take some time to resolve.
"Our focus is on both the disruption of crime and depriving criminals of their assets.
"In this case the CRU has shown that we are determined to disrupt crime and to ensure that any proceeds of crime are recovered and put to good use in our communities."
Ch Supt Wayne Mawson, of Strathclyde Police, said the force noted the result of the case "with pleasure".
"Its result bears proper testament to the assiduous and exhaustive efforts of a large number of officers, and members of police staff, whose work went towards identifying and recovering the evidence to support the claim," he said.
"The Proceeds of Crime Act offers a valuable tool to law enforcement agencies to see that ill-gotten gains do not remain ill-gotten.
"This case also offers a timely reminder that the police and other justice agencies will pursue the holders of such property for however long it takes."