Closing speeches in trial of Craig Roy over Jack Frew death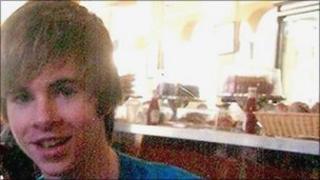 Jurors in the Jack Frew murder trial have been told that the accused showed "utter indifference" to his victim.
The comments came in a closing speech from prosecutor Jennifer Bain at the High Court in Glasgow, as she urged jurors to convict Craig Roy of murder.
Defence QC David Burns urged them to return a verdict of culpable homicide, due to diminished responsibility.
Mr Roy, 19, admits fatally stabbing 16-year-old Jack Frew in woods in East Kilbride in May 2010 but denies murder.
Ms Bain made her address to the nine women and five men of the jury on the 11th day of the trial.
'Cruelly taken'
She said: "When Jack Frew left his home on the evening on 6 May 2010, he could have had no idea that he was leaving for the very last time.
"He could have had no idea that he would never again see his mother and father.
"At the age of only 16 his life was cruelly taken from him."
Ms Bain described Mr Frew as fun-loving, enthusiastic, clever, flirtatious and a good laugh - a boy who loved his family and friends.
She said he would have had no idea that Mr Roy had taken a knife from a cupboard in the kitchen of his East Kilbride home.
Ms Bain added: "He took the knife from the back of a cupboard and he plunged it into a defenceless man not once, not twice, not three times, but 20 times and then slit his throat from side to side.
"Craig Roy struck Jack Frew repeatedly on the neck and body. He did this despite the fact Jack Frew was unarmed. He did this with force sufficient to penetrate bone.
"The fatal injuries were inflicted with utter indifference as to whether Jack Frew lived or died. It may only have been a small knife, but it was deadly."
The jury was shown pictures of the injuries inflicted on Mr Frew, a fifth year pupil at Duncanrig Secondary in East Kilbride.
As they were shown on overhead screens in the court, the victim's family and friends wept.
'Sufficient evidence'
Ms Bain told the jury: "There is sufficient evidence - should you choose to accept it - to decide that Craig Roy committed the crime of murder."
The prosecutor said Mr Roy claimed he was being blackmailed for sex by Mr Frew, but she said the only evidence of this came from the accused himself.
She told the court that Mr Frew and Mr Roy had sent 82 texts and asked: "Would you expect the victim of blackmail to reply to a blackmailer, would you expect the victim of blackmail to supply him with the answers to a maths test."
Ms Bain said that the text Mr Frew sent to Mr Roy just hours before they met may sound sexually suggestive, but said that he was a flirtatious person and had sent those kind of messages to others.
Speaking of the fact Mr Roy claims not to remember anything from taking out the knife until seeing Mr Frew lying on the ground bleeding, Ms Bain said: "You may think this amnesia is selective or convenient."
She said Mr Roy claimed he felt "furious" when he took the knife out, adding: "He lied to you in order to minimise his role."
The prosecutor urged the jury to accept Mr Roy was not suffering from a personality disorder which would have caused him to act in this way.
Ms Bain added: "Do you think this could be anything other than murder. On 6 May 2010 Jack Frew made the mistake of meeting Craig Roy.
"While he was still breathing his attacker called for help, not for Jack Frew, but for himself.
'Brutally stabbed'
"The Crown asserts that Craig Roy murdered Jack Frew. I invite you to find him guilty of murder."
She told the jury: "Jack Frew made the mistake of fancying and making sexual suggestions to Craig Roy and for that he was brutally stabbed to death."
In his closing speech, Mr Roy's defence QC David Burns invited the jury to convict his client of culpable homicide.
Mr Burns said Mr Roy was subjected to a "catalogue of harassment" by Mr Frew and was controlled by him with blackmail about disclosing a sexual encounter they shared in January 2010 to Mr Roy's boyfriend.
It was also said that Mr Roy did not seek to cover up his actions on the night of the incident and that it was not premeditated.
The jury was told that two separate psychiatrists diagnosed Mr Roy with a disorder affecting his personality.
One described the knife used to kill Jack Frew as "speaking for him" because he was unable to talk about his problems of feeling "cornered".
The court heard that because of his condition he was unable to discuss problems and would sometimes bang his head or scratch his face.
Mr Burns said Mr Roy's actions that day were "governed and dictated by his disorder of personality".
The jury heard that the anger he normally felt towards himself, as part of his condition, diverted itself towards Mr Frew, who he felt was "tormenting" him.
Diminished responsibility
The QC said Mr Roy "felt he couldn't avoid" Jack and was "unable and ill-equipped" to deal with the situation because of his disorder.
Mr Burns urged the jury to find him guilty of culpable homicide due to diminished responsibility caused by his mental state at the time.
He added: "It would amply justify when he struck those blows he was not fully responsibly for his own actions but only partially responsible."
The judge, Lord Doherty, will charge the jury on Thursday before members retire to consider their verdict.