Council rebels hope to form 'Glasgow Labour'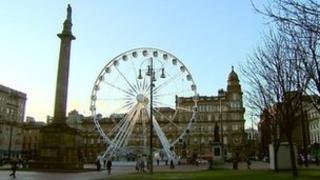 Former Labour councillors at Scotland's biggest local authority are preparing to launch a rival party to field candidates in May's local election.
It comes after Labour-controlled Glasgow City Council had to fight to see off an internal party rebellion during a vote on the budget.
The six dissenters had been de-selected by Scottish Labour ahead of the local authority elections.
The new party has been provisionally named Glasgow Labour.
Councillors Stephen Dornan, Tommy Morrison and Anne Marie Millar all resigned from the group before the vote on Thursday.
It emerged on Friday that Andy Muir, William O'Rourke and Ruth Black had also left.
Mr Morrison said an application had been made to the Electoral Commission to register a new group. They plan to stand one candidate in each of the city's 21 wards.
The ruling Labour administration won Thursday's knife-edge vote by 40 to 38, after bringing sick councillors to the city chambers by taxi, to secure victory.
With six councillors no longer part of the Labour group, the party can now count on 40 votes while there are 39 other councillors in total.